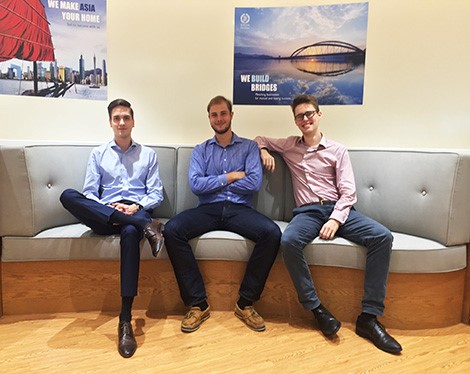 Jebsen Industrial's cross-border employment opportunities bring four young men from Germany to Hong Kong
As a business bridge between Asia and Europe, Jebsen Industrial does more than connect companies and markets—it connects people and cultures too. For that reason, it offers young candidates beyond its own shores a range of employment opportunities in the form of internships as well as project-based and temporary positions. This year, it is supporting four young men from Germany as they take their first step into the Asian corporate world.
Welcome to the family
Meet Alex Schultz (20), Michael Hinrichs (22), Christian Hausner (23) and Benedict Skelton (26)! Considering their diverse backgrounds and interest areas, Jebsen Industrial has assigned them to different roles. The scale and scope of its business allows these short-term staff a more varied work experience. It also allows them to work within a diverse team and gain first-hand experience of local work culture.
Since the objective of such short-term assignments is to gain as much experience as possible, Jebsen Industrial also believes in granting its people the autonomy to maximise their learning and optimise their potential. This means that they are entrusted with major projects, instead of typical support tasks.
Benedict, for example, is Jebsen Industrial's e-commerce intern. He is responsible for conceptualising, producing and maintaining the Cinematic & Broadcasting Solution (C&BS) division's new online platform, jcinecast.com. Given that C&BS is currently pursuing a multi-brand, multi-channel market approach, its online presence is of strategic importance. Taking on such a project with the support and guidance of the C&BS team is a great way for Benedict to gain insights into Jebsen Industrial and the business world as well.
For Michael, who is part of the Quality Management team, his defining project is JInnovate, an internal initiative to encourage employees to voice out, evaluate and realise innovative new opportunities. Through the project, Michael has the potential to make a lasting difference to the future of Jebsen Industrial and its people.
Broadening perspectives
In addition to equipping its people with relevant work experience and important skillsets, Jebsen Industrial also hopes to enhance their worldview.
For Chris, this is taking the form of a year-long assignment as Assistant to Managing Director Maximilian von Stillfried. While conducting research and analysing data and reports for Mr von Stillfried, Chris is learning about business management and the dynamic market environment in Greater China. His role also extends to projects related to Jebsen Industrial's strategic development and requires him to interact with business leaders on a daily basis. This exposure and Mr von Stillfried's mentorship will likely place Chris in good stead in his future career.
Meanwhile, Alex, who is a Jebsen Group Trainee, is concluding his two-year management trainee programme with Jebsen Industrial. After rotations with Jebsen Consumer, Jebsen Motors and Group Human Resources, Alex is now learning about the B2B industrial sector. Through his time with Jebsen Industrial's Automation & Services divisions, Alex is building a strong understanding of cutting-edge engineering technology solutions and how these are meeting the current and emerging needs of the sector.
Exchanging cultures
In welcoming people from different countries, Jebsen Industrial also seeks to facilitate cultural exchange among its people, especially in an increasingly globalised world. For those new to the Asian corporate world like Alex, Benedict, Chris and Michael, it is an opportunity to understand the way of life in Greater China while the company benefits from a broader pool of perspectives, knowledge, skills and ideas—an enriching experience for everyone involved!