Cooke Lenses Interview 3: Cooke Look As Seen Through The Eyes Of Young Female Cinematographer Lu Chen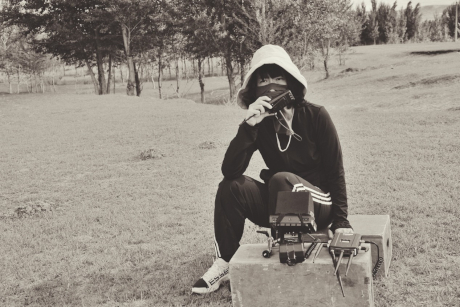 Lu Chen, an advertisement, web drama, and movie cinematographer, has shot commercial for brands like Didi Chu Xing, Bioderma-CNY, and Ding Dong Grocery. She has also created feature-length and short films including The Spring of Youth, Another World, Tail, Our Dream of Cars, and Killer Smile. As a young female cinematographer and a Cooke lens user, Lu Chen brings a unique perspective and beautifully crafted images to her viewers. Cooke recently invited her to share her experience with Cooke Panchro/i Classic lenses.
You recently completed filming for the web drama The Spring of Youth with Cooke Panchro/i Classic lenses. What impression did it leave you?
Lu Chen: For this drama, the entire crew including our producer, executive producer, and director are all quite young. We were all born in the 1980s and 1990s, and have a lot of creative passion. We shot 882 scenes in 58 days—on time, on budget, and with high quality results. This is the first time I filmed a long drama series and I am very fortunate to have met such a great crew. The drama team was very respectful of our creative vision. Everyone worked closely together, communicated well, and we were able to wrap filming quite smoothly. This was not only my first long drama series, it was also my first historical period drama and the first time I shot so many intense action scenes back-to-back. I gave many of my 'firsts' to this drama, so it holds milestone significance for me.
Prior to filming, did the director have specific requests regarding cinematic style?
Lu Chen: When I first met Director Lily Lee, she told me that this is a comedic drama for females aged between 15 and 35. She hoped for a cinematic style that was somewhat retro with low contrast. She specifically advised against overly sharp or rigid images and, of course, she wanted a visually pleasing aesthetic. She was also keen on retaining some elements of an idol drama, such as a clear and bright mood, so as to appeal to the aesthetic preferences of our target audience. We chose to combine anamorphic lenses with comedic techniques like the Dutch angle for a two-dimensional comic-book feel. We were very clear from the beginning that we had to strike a balance between a two- and three-dimensional visual approach, and the style of an idol and comedic drama, in order to create a unique personality for this drama and help viewers quickly immerse themselves in it.
How did you choose the camera and lenses? Prior to filming, what technical tests did you conduct?
Lu Chen: With a tight film schedule, it was important that I considered the equipment's stability and reliability. For cameras, there really are not that many options. I went straight for the ALEXA Mini. I tend to favour handheld and shoulder-mounted shots, and the weight of the ALEXA Mini makes it friendlier for female cinematographers. It offers me more room for creativity as I can follow the actors and pull in closer for more agile shots.
We used three ALEXA Mini cameras in total. Our A and B cameras were usually shooting on the ground; the A Camera was mainly deployed for close-up and portrait shots while the B camera handled on medium-range shots. We had another C camera, which was usually paired with 32mm Panchro/i Classic and used without a mounting kit. It could be quickly used with a stabiliser for follow shots or fitted onto a camera crane. That saved us a lot of time on site.
I am actually more familiar with the S4/i and S5/i, as I have used them to shoot advertisements before. At that time, the Panchro/i Classic had just been introduced in China and I did not really know much about it. All I knew was that Cooke had launched a redesign of a vintage lens. When KO Film Rental's Mr. Lu heard about my requirements for this drama, he suggested that I try the Panchro/i Classic. I ran some tests and I immediately knew: this was it!
How do you feel about the performance of the Panchro/i Classic? How did its out-of-focus imaging, distortion control, flare, etc help you in filming?
Lu Chen: The cinematic style of the Panchro/i Classic is different from the S5/i. The Panchro/i Classic is simpler and more down-to-earth while the S5/i is more exquisite, in a well-made but man-made way. The Panchro/i Classic feels more organic. It sometimes portrays light in a quaint, rather adorable way. I would point out that the S5/i's contrast and saturation is marginally higher than the Panchro/i Classic's. This becomes evident when filming people because of the differences in skin tone rendering. The lens coating on both are also different.
The Panchro/i Classic was particularly suitable for our drama. Its low saturation, image texture and analogue look are excellent. Paired with the Classic soft filter, its skin tone rendering is warm and soft, and that was exactly what our director wanted. The Panchro/i Classic's resolution is also very good. Its overall performance may differ from modern lenses, but that is definitely not because it is a redesign of a vintage lens with resolution issues.
I also found that the Panchro/i Classic's close focus is really very near. On the 32mm that we used most often, it could go as close as half a foot from the lens front. When we did handheld shots, especially two-dimensional comic-book anamorphic shots, such a close distance is very practical. We did many of such shots. At the time, I prepared a PowerPoint presentation to go through all the strengths of the Panchro/i Classic with our director, and spoke to Executive Producer Li Zhi at length about it. They were both very pleased with the Panchro/i Classic, whether in terms of its light handling or cinematic style. They succeeded in persuading our producer, and that is how we received the green light to use the Panchro/i Classic. It would have been much more convenient to get our equipment from a rental house located near our filming site but our options would have been severely limited to commonly-used lenses. After our producer was convinced, we sourced for two sets of Panchro/i Classic lenses from Beijing and used them for the entire duration of the shoot.
For most part of this drama, lens flare was avoided. But there were certain scenes, like the female lead's teenage fantasies, where we wanted to achieve a more stylised and subjective expression. For those scenes, we treated KO's peacock flare filters with light bounce to achieve a surreal visual effect—one look and you can tell that you have entered her imagination. The Panchro/i Classic's lens flare is not as stiff as some other modern lenses. It is very soft, natural, and comfortable. We made use of it many times to create unique visual effects.
When I was working on an earlier movie, Another World, there was a very important scene where we also deliberately used the Panchro/i Classic's flare as it worked very well with the actor's performance. The scene opens with backlight entering the car window, creating a flare. As the actor walks towards the other side of the car, the light appears to be tossed behind him. This mood was a perfect match with the actor's performance. And because the Panchro/i Classic's flare disperses very softly, it gradually faded away instead of disappearing abruptly.
Which scenes left the deepest impression on you?
Lu Chen: There were quite a number of such scenes. Many of the scenes that we filmed with the Panchro/i Classic were really beautiful. The one that I want to share was shot in a bamboo forest. There, we filmed the male lead practising swordplay in his childhood days as well as several other scenes after he grew up. The bamboo forest itself is beautiful but, when shot with the Panchro/i Classic, it looks even more special. The scenes were taken in natural light. We filmed in the afternoon and only used butterfly fabric for a small measure of light control.
As the shot slowly tracked out, the dark green of the bamboo forest turned into a brilliant emerald, then softened to a clear, grassy green. This grassy green then gave way to a golden hue as sunlight filtered through the bamboo leaves. This amazing colour gradient was brought out, segment by segment, so much so that I went 'Wow!' in my head when I looked into the eyepiece. The wind brought several bamboo leaves fluttering down to where the child actor stood. He was dressed in a black outfit with red and golden threads that seemed to reflect the light. That moment was the shot that we wanted. Later, there was a director who viewed our test shots. He asked me whether the light was created by the Panchro/i Classic. When I said yes, he seemed disappointed that he did not get to use it for his last production. The Panchro/i Classic has a special way of handling light that captures people's heart in an instant.
Did you use zoom lenses? How did you pair primes with zooms?
Lu Chen: We used Cooke S4 CXX 15-40/T2 as well as long-range zooms like the Angenieux 45-120mm T2.8 and 24-290mm T2.8. I personally prefer primes. About 75-80% of this drama was shot with primes but when it was necessary to give the actors more room to perform, I would use long-range zooms. Also, in certain locations where the terrain was unsuitable and we couldn't use dolly, we opted for zooms as it enabled us to film quickly from several different angles.
The Cook S4 CXX 15-40/T2 has a large aperture that makes it very practical when it is inconvenient to set up lighting. It is also very portable and enables us to find a suitable angle very quickly. If we push it to 40mm, we can use it right away for solo shots. I once used it to film a desert car scene in another movie too. The Panchro/i Classic's wide angle is only 18mm, so for large fighting scenes or group shots, I would use 15mm zooms. The Cooke S4 CXX 15-40/T2's colour performance is rather different from the Panchro/i Classic's but its T2 aperture does help when we are filming under less-than-ideal lighting conditions. There is not much distortion at 15mm too.
What's your understanding of the Cooke Look? After this filming experience, is there anything you would like to share with your industry peers?
Lu Chen: Personally, I would express it in a more emotive manner. To me, the Cooke Looke is a warm and tangible form of beauty, and this beauty uplifts people. With Cooke lenses, whether it is the lens grinding process or its charming out-of-focus imaging, there is an imperfection. But it is this imperfection that makes the visual experience perfect. I think that Cooke lenses have a special place in today's cinematic lens market. It is not something that was churned out from an assembly line; it has emotion. It reduces the distance between cinematographer and equipment. Whether I am filming with the S4/i, S/5/i or Panchro/i Classic, Cooke allows me to immerse myself in the world of creation.
I do want to say that, if given the chance, everyone should experience the Cooke Look for themselves! KO Film's service has also left a deep impression on me. Their owner Lu Cheng is someone who pursues perfection in both the artistic and technical realms. He is a great senior colleague who gave us plenty of sincere and practical advice. Despite our budget constraints, with his support, we were able to shoot with the Panchro/i Classic. As a cinematographer himself, he is able to see things from our perspective. KO Film Rental does not just negotiate a rate and hand over the equipment. They helped us anticipate and even solve issues that may raise during pre-production and filming. It is not a large company but it really is "Service for Cine"! Domestically, they have achieved an impressive service level. Even their technical staff are very professional.
They also conduct in-house research. I think it is impressive that there are rental houses in China that are willing to invest in equipment research. They are firm in their beliefs and do not treat cinematic equipment merely as a means to do business. When there are more rental houses like them, I think the Chinese film industry will begin to change.
What impact will new technologies have on the industry? What's your take on full frame format?
Lu Chen: I have always felt that technology gives the human imagination a tangible form. With every advancement, a technical barrier is torn down and this allows the industry to develop further. Full frame, for example, brings a shallower depth of field, a wider field of vision, and better image quality. For viewers, it offers a more immersive visual experience. But as cinematographers, our main responsibility is to tell a good story. I prefer to hide the camera behind the story, rather than flaunt it. "How can new technologies better serve the storyline?" I think that is a question that cinematographers need to explore. For cinematographers and directors alike, it is important to maintain an artistic sensitivity and combine this with technology. Cinema is an industry built on dreams. New technologies offer us more possibilities and should not be rejected. Films have evolved from silent to sound, from black-and-white to full colour, from analogue to digital. Technology has always pushed the industry to improve. Even though it presents greater challenges to cinematographers, I believe that it is important to continuously embrace technology advancements while maintaining artistic sensitivity.
What are your future plans?
Lu Chen: I have always wanted to film an action piece and, this time, I have finally done it. I am interested in dance, period dramas—basically any genre that I have not experienced. I also keen on shifting my focus to movies. For cinematographers like myself who did not receive formal training, this roundabout approach is perhaps a more realistic way of reaching our dreams. I hope my passion for cinematography will never fade, that the industry environment will improve even more, and that I will be able to produce fine cinematic work in the future.
Special thanks to KO FILM (Beijing) Co. Ltd & Jebsen Industrial (China) Co. Ltd for the interview arrangement.
Title: Web drama The Spring of Youth
Director: Lily Lee
Cinematographer: Lu Chen
Images provided by: Lu Chen