Cooke Lenses Interview 2: How Cinematographer Gao Hu Created Cry Me A Sad River With Cooke Panchro/i Classic Lenses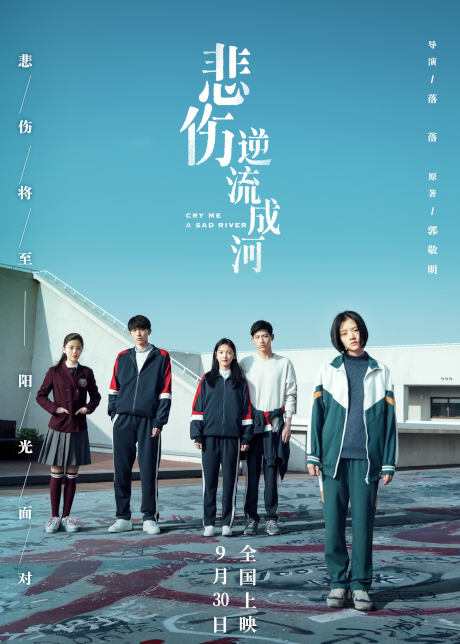 Cry Me a Sad River is a movie based on Guo Jingming's novel of the same title. Directed by Luo, it tells of the high-school happenings of a group of teenagers who grew up together in the alleys of Shanghai. Emotional entanglements, rumours, and bullying eventually lead to a tragic ending. The movie was released in China on September 21, 2018. We invited Cinematographer Gao Hu to reflect on his experience filming with the Panchro/i Classic lenses.
Now that Cry Me a Sad River has been completed and released, what impression did it leave on you?
Gao Hu: It has been over a year since we wrapped filming, and the movie was released about six months ago. Most high school movies tell a happy, carefree story, but Cry Me a Sad River is special. It deals with the issue of school bullying, a topic that is real and meaningful. For me, it was a challenge from the time I first laid eyes on the script—from preparing for the shoot and brainstorming with the team on how to creatively present the subject matter, to discussing how the actors should express themselves and even studying the weather. We filmed in February, the coldest time of the year in Shanghai. The weather was gloomy, which was actually a good fit with the tone of this movie.
Through the movie, I started to develop a better understanding of school bullying. It is an issue that every family, every school, every teacher, and even the government should be paying attention to. The movie is not just about entertainment; it is food for thought as well. I believe that everyone will have children one day and they would hope that their children enjoy a beautiful youth—one where school bullying does not scar their personality and leave indelible marks on their growth and development. I feel fortunate to have been part of a movie that deals with such a real issue.
Cinematographer Gao Hu
In the filming of Cry Me a Sad River, did the director have specific requests regarding cinematic style?
Gao Hu: Director Luo Luo is an author and, in literature, the concept of imaging is often not as complete as in cinema. So, we started with rather fragmented ideas. But as a female author herself, Director Luo Luo is able to pick up the feminine and delicate nuances of the script. She is also native Shanghainese and very familiar with the city, so I had many conversations with her about Shanghai—its streets, its weather—since that is where the movie is set.
We had many outdoor scenes. Outdoor shoots are the greatest challenge for any cinematographer because we have little control over lighting conditions. We were under budget and schedule pressures as well, so we were in no position to deploy large equipment to block the light. To work within these constraints, we agreed on a tonality. Since the movie deals with a real issue, cinematic style would have to be realistic. But it also deals with feelings and emotions and those cannot be portrayed in an objective manner. So, Cry Me a Sad River straddles the tangible and intangible. Overall, its mood is rather gloomy and downcast. There are certain parts where it feels bright and sunny, but that does not last from start to end. I discussed and agreed on this creative direction with the director, producer, and executive producer Guo Jingming before we started shooting.
Prior to filming, what technical tests did you conduct?
How did you choose your camera and lenses? Gao Hu: My years of experience tell me that ARRI digital cameras are second to none, and I am more comfortable with them. This script is rather special. There are many scenes focused on bringing out the intangible feelings and emotions of our young actors, which call for close-up portrait shots. During pre-production, we spent a lot of time searching for lenses that would give us that gloomy, downcast mood but in a way that does not look too stiff and rigid. We practically tested all the lenses in the market and even tried adding filters like PRO MIST, BLACK PRO MIST, and WHITE PRO MIST, but we still felt that the images looked too deliberate. Those filters change the texture of the light and skin tone, and add a softness to faces, but highlights and dark shadows was not the look that I wanted. It was a real headache to repeatedly conduct those tests.
At the time, the KO Film Rental team had just returned from a tradeshow and they told me that Cooke launched a set of Panchro/i Classic lenses. The moment I heard 'Panchro', I got excited. The series has not been refreshed in a long time. In fact, it has remained out of production for quite a while. I felt it was worth a shot and worth the wait. When we finally received four lenses and ran the tests, I was really happy. I knew we could stop testing now. For Cry Me a Sad River, the Panchro/i Classic was the perfect choice. Its colour and softness are wonderful but, more importantly, even without the use of a light diffuser, it produces visually comfortable images. Its light and distortion control are very much in line with Cooke 's established style, but the Panchro/i Classic adds a layer of delicateness to it. After testing, we chose to add the Hollywood Black Magic filter but with a very light touch at 1/8 or 1/4 strength.
How did you feel about the Panchro/i Classic during filming?
Gao Hu: We received the 18mm, 25mm, 32mm, 40mm, 50mm, 75mm and 100mm. Even though the 65mm and 135mm were not available yet, it was sufficient. This movie was not suited for many wide-angle shots since the subject matter is not about the big, broad world. Rather, we wanted to go deep into a young girl's heart and mind to see things from her perspective and portray youth with all the cruel psychological changes that come with it. For that reason, we avoided wide-angle and used more medium-to-long range shots. When filming people, we typically used a focal length of 32mm or 50mm. Even though we had many medium-to-long range shots, I did not want to remove the background entirely, since the environment does influence the female lead's behaviour, actions, and decisions.
At close range, the Panchro/i Classic exceeded my expectations. It achieved what I believe other lenses are unable to do; things that can only be achieved in post-production. The Panchro/i Classic completely satisfied all our onsite needs and was able to capture even the finest details in our actors' performance.
I feel that the Panchro/i Classic is very special. It is completely handcrafted with very few lens elements so light transmission is even and the lens itself is lightweight. It is clearly different from modern lenses. The images it produces have a quality that you have probably never even imagined possible, yet are very comfortable to look at. It achieves the signature Cooke Look, with, for example, a smooth transition from focus to out-of-focus areas. I think this is precisely why it is able to create such rich colour depth.
At certain focal lengths, the Panchro/i Classic produces slightly blurred or distorted edges. But when there is flare, this creates a unique dimensionality that filters and post-production cannot mimic. In fact, when you want such a visual effect, only the Cooke Panchro/i Classic will come to mind. The Panchro/i Classic produces a cinematic style that feels almost like an oil painting. The transitions are extremely smooth and there is a very delicate colour contrast. It also changes the contrast of light in a unique way. I believe this is the reason why many people choose to film with it.
In the movie, you can see some very beautiful skin tone rendering. Some were deliberately created with post-production colourisation, but others were simply the result of shooting with the Panchro/i Classic. It was one of the main reasons why I chose the lenses. When we were filming people under natural light, most of the time, we only had to add a little light. When we viewed the footage on the large screen, we found that post-production colourisation was unnecessary. We felt good about the footage and colourisation would have actually made it look less realistic. Given the cinematic style for this movie, we did not want the images to look overly touched up. Post-production was a breeze because everyone took one look at the footage and immediately saw the message we wanted to convey.
Which scenes in Cry Me a Sad River made the deepest impression on you?
Gao Hu: Right from the start, selecting filming locations was a challenge. For example, the female lead's home is in an old alley but, in reality, old buildings across China's major cities have all been torn down. It was difficult to find a place like that. I made a suggestion—the opening scene had to show the female lead's home with modern skyscrapers on one side and old alleys on the other for a striking visual contrast.
But all of the old alley homes in Shanghai have either already been torn down or are about to be torn down. Eventually, we managed to find one alley. Its residents had had moved out and the doors and windows of the homes had been cemented shut.
For the opening, we designed a bold long-range shot. It starts from high up in the sky with a bird's eye view of Shanghai, its busy highways and the Suzhou River, before diving down into the alley, into the female lead's home, where she lies in bed. The shot ends with a close-up of her eyes. The entire scene was filmed in a single shot with some editing in the middle. With this scene, we were able to create a location setting that was convincing for viewers. Later, we replicated about a quarter of the alley where the female lead lives because the original alleys are actually too narrow for filming.
In the movie, all the outdoor shots were filmed on location while the indoor shots were done on set. That means we often had to divide one scene into two segments. For example, shots that were focused on the actors' faces without much background were filmed on set. If the actors had to say a couple lines at the door, the reverse angle shot had to be shot on location. The hardest part was connecting the scenes with uniform lighting and consistent acting. In the movie, two sequential shots of the door opening and closing could have actually been filmed two weeks apart. This required the actors to recreate their emotions well.
There was another scene with many color balls. For that particular shot, we did some touch-ups on-location and nothing more during post-production. When filming that scene, we wanted to convey the warmth of lying in a mother's womb—a very abstract expression. We used lighting with coloured sheets to create a sunny vibe and added some blur to the edges. I took some Vaseline from the makeup artist and lightly applied it to the edges of the lens. When light entered the lens, this created a beautifully layered halo effect, which was the look and feel that we wanted. Filming went really smoothly. The actor was doing well and grasped the right emotion very quickly. We wrapped the shot in about 20 minutes.
There was another special scene where the female lead was at the police station. When I first read the scene in the script, I could already see how I wanted to film it. In the story, Gu Senxiang had died and everyone was ignoring the female lead. She feels that no one understands her; she feels disappointed in the world. Emotions are really important in this scene because when the female lead finally closes her eyes, she has decided to take her life. The shot that we designed was a medium-range one that drives into a close-up of her eyes. I think only the Cooke Panchro/i Classic could have made this shot. We used the 50mm. Even lens extender or a zoom could not have delivered the shot that we wanted. We pushed the Panchro 50mm as close as we could, and the emotion just exploded on screen. Although it is not labelled as a macro lens, the Panchro/i Classic manages to achieve a macro effect from wide angle to long range. The 32mm's close focus is only about six inches. Most other lenses cannot claim the same.
In your experience, how would you define the Cooke Look? After this filming experience, is there anything you would like to share with your industry peers?
Gao Hu: I would not call it a definition but I think that the Cooke Look is something that many cinematographers really love. It has a rich heritage and the new Panchro/i Classic marks a return to this heritage. I feel honoured to have had the opportunity to film with it.
It is difficult to describe the Cooke Look from a technical perspective. I think Cooke produces lenses that have a certain cultural richness. Its lenses are not industrial; it is not about delivering certain technical standards. Rather, it is an aesthetic preference. You just cannot put it down, even though you know very well that it has technical flaws or weaknesses. Those weaknesses, combined with its innate strengths, create something that is uniquely Cooke .
It is like looking at a painting. You can see its flaws, but it is those flaws that create a beautiful aesthetic. And from an artistic perspective, it works. The more you understand it, the more you love it. The more you love it, the more you want to figure it out. I think that is what people look forward to in the Cooke Look. It is a very different feeling from industrialised, standardised lenses. I also used Cooke 's Panchro/i Classic and S5/i series in another shooting. There are some productions where we cannot use Cooke lenses and I feel that is a pity. I only feel this way about Cooke lenses. It always gives me unexpected creative energy.
Did you use zoom lenses? How did you pair primes and zooms?
Gao Hu: My primes were all Cooke Panchro/i Classic. In addition, I used two zoom lenses for Cry Me a Sad River—the Cooke 15-40mm T2 and Cooke 25-250mm. I chose these zooms to maintain a uniform cinematic style. Whether prime or zoom, Cooke lenses have a distinct style that other lenses cannot achieve. Zooms were primarily used for day shots and large scenes. It is very convenient to change their focal length especially when mounted on camera crane. Cooke 's zooms produce a cinematic style that is broadly within theCooke Look system but they are also able to add some interesting distortion for a different sense of perspective. Maybe it is because of this uncertainty that Cooke lenses are able to bring something unexpected to the table.
What are your thoughts on technology advancements like the full frame format?
Gao Hu: It is a good thing, of course. Full frame, 65mm has always been something that cinematographers strive towards on a technical level. In certain situations, it can add great power to an image. But this does not mean that large formats are suitable for all subjects. After all, imaging is only a form of visual representation; the story remains most important. And just because you want a certain style does not mean that you have to follow a certain format. There are some visual effects that can be achieved using really old techniques too. Industrialisation is bringing us convenience in terms of equipment, but the charm of cinema still comes from your creation. As technology continues to advance, it is important to make the right choices. This is not a matter of budget. You need to have a clear vision of what you want to create. Only then can you make the right choices.
What new projects are you working on?
Gao Hu: I am currently filming an inspirational military sports movie, which is a relatively new genre in China. It is based on sports, so I am still using the 65mm as it allows me to close in on the actors and capture the tension. We do not want the movie to feel like a documentary or a sports broadcast. Due to budgetary constraints, we cannot use the 65mm for the entire shoot but we are using it for the second half. In the first half, I am using the S35 series. It is one of my favourites by Cooke , in addition to the Panchro/i Classic and S5/i, of course. The military should feel raw and rough, and filled with primal beauty. It should not come across as stiff or look overly touched-up. This is an image that is missing from China today, and we hope to portray male beauty in a different light through this movie.
Special thanks to KO FILM (Beijing) Co. Ltd & Jebsen Industrial (China) Co. Ltd for the interview arrangement.
Title: Movie "Cry Me A Sad River"
Director: Luo Luo
Cinematographer: Gao Hu
Images provided by: Gao Hu