Christopher Doyle Won "Pierre AngÉnieux Excellens In Cinematography" Award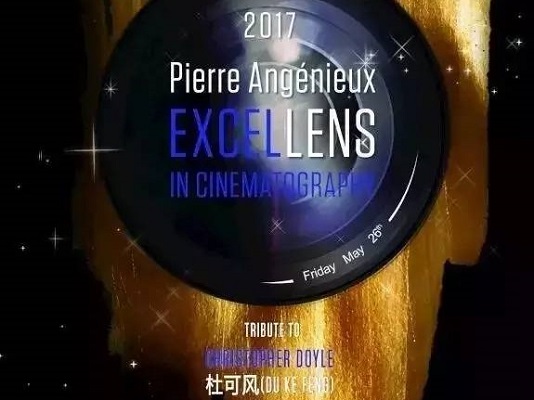 Every year the "Pierre Angénieux ExcelLens in Cinematography" award ceremony pays tribute to a director of cinematography whose work has marked the history of world cinema.
After Philippe Rousselot (2013), Vilmos Zsigmond (2014), Roger A. Deakins (2015) and Peter Suschitzky (2016), cinematographer Christopher Doyle has seen his entire career recognised during an exceptional ceremony at the 70th Cannes Film Festival.
Of Australian origin and also known under his Chinese name, Du Ke Feng, Christopher Doyle has collaborated with many international directors (Alejandro Jodorowsky, Gus Van Sant, Barry Levinson, Jim Jarmusch…) and is renowned for his considerable contribution to Chinese language cinema. His love for saturated colours and vibrant contrasts has left unique marks on more than 60 films by prestigious directors such as Zhang Yimou, Edward Yang, Stan Lai and Zhang Yuan.
His longstanding collaboration with Wong Kar-Wai (Chungking Express, Fallen Angels, In The Mood For Love, Happy Together, 2046) has made a deep impact by the aesthetics, the style, and an indomitable energy that became the hallmarks of Hong Kong's young filmmakers.
Doyle's way of shooting is very dynamic and most of the time hand-held in order to put the audience closest to the action. "The function of the cinematographer is to be the bridge, the conduit between the audience and what's in front of the camera. To me, there are only three people in cinema: the person in front of the camera, the audience, and the person who is the real passage between them—the cinematographer. Of course, director and producer facilitate the interface. But for the engagement to be direct and compelling, I really believe we have to be transparent and remove ourselves enough so that the passage between the actors and audience is direct", said Christopher Doyle.
Doyle overcame constraints of low budgets and tight spaces by finding rhythm and energy in his shots: a unique style that he adapted to bigger budget movies. Extreme angles of views even for close-ups, unusual color palettes and unique lighting are Doyle's cinematography signature.
To serve this kind of images, the zoom lens is an ideal tool. It is always a part of Doyle's equipment list, especially the Angénieux Optimo 15-40. Doyle used Angénieux zoom lenses on American Dreams in China (2013) by Peter Chan, Love for life (2011) by Changwei Gu, Ocean Heaven by Xialu Xue, Ondine (2009) by Neil Jordan, Downloading Nancy (2008) by Johan Renck, Lady in the Water (2006) by Night Shyamalan, The White Countess(2005) by James Ivory, Hero (2002) de Yimou Zhang and many other movies.
Christopher Doyle's work has been awarded an incredible number of times in the most prestigious film festivals. Port of Call (2015) directed by Philip Yung won last year's Hong Kong Film Best Cinematography Award.
On Friday 26 May 2017, at the Buñuel Theatre in the Palais des Festivals, Christopher Doyle, surrounded by some of the most significant directors, producers and actors in his career, will be awarded the "Pierre Angénieux ExcelLens in Cinematography" tribute.
Tribute to Christopher Doyle!

Created by Thales Angénieux and Orbis Media, the 5th "Pierre Angénieux ExcelLens in Cinematography" award is supported by Weying (online ticketing platform on Wechat) and Movie View (Chinese movie magazine and PR company), and produced by Orbis Media.