True Grit: Schneider Xenons Pass The Ultra Marathon Test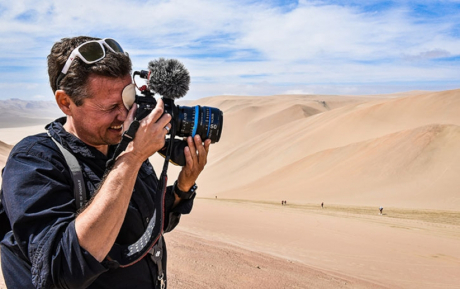 Arnaud Cailloux, from Vosges near Épinal in France, is a director and cameraman focusing on sport – especially ultra-trail running, a long-distance run of up to 100 miles in a natural environment, mainly mountains. He also works for the sports brand WAA and the Marathon des Sables race in Morocco, Peru and Fuerteventura. At the Peru race, he directed and shot a web series on six competitors. His lenses of choice? Schneider-Kreuznach Xenon Full Frame Prime Lenses.
"I'm a one-man operator and produce a 52-minute programme for French and Canadian TV," says Cailloux. "I don't get involved in post-production, though. On set, I work alone, which is not always easy!"
To minimise his kit, Arnaud uses a Sony A7S II, with a battery grip and the Sony 28-135mm zoom lens, plus a DJI Osmo, a drone and some old Canon FD prime lenses – a 35mm and 50mm.
"I use primes lenses before and after the race to give the footage a certain look. During the race, I use the zoom more, for versatility, but for the night I need fast aperture lenses, so go for primes," explains Cailloux. "When I received the Schneider-Kreuznach Xenon Full Frame Prime Lenses I knew they were the lenses for me. They look so solid."
Robust and Reliable Lenses
"The construction is perfect. They're big lenses for sure, as they're cine lenses," he says.
The housing of the lenses is in three different sections. The front section is fixed; the second is the focus, which Cailloux says is "super smooth", and the third one is the aperture control. "Together with my Sony A7S II, everything fits perfectly. The lenses are very professional. You can feel the quality. You instantly know where you put your palm and your fingers find the controls easily," says Cailloux.
"As I work without a focus puller, I found out I can put some of my fingers on the fixed front of the lens to hold it, and other fingers on the focus ring," he adds. "This allows me to easily change focus between seven and 1.5 metres. The lenses are very precise, which is crucial as a very important part of our work is to not miss focus.
"Over a month, I travelled from mountains to deserts in South America, from cold, rain and heat, to dust moisture and sandy conditions. The lenses were rock solid and no trouble at all. Even in a sand storm, no fine grain got inside and there were no problems focusing. Schneider-Kreuznach's adjustments are so precise and fine that nothing went wrong."
The Final Result – The Footage
"After the South American trip, my editor called and asked if I'd changed my lenses. He saw the difference straightaway. Great lenses make a big difference. He told me these lenses are sharp, but still have a smooth rendering, with a lovely contrast and nice bokeh," says Cailloux. "When I first looked at the footage it was like having a new camera! I was really impressed and loved the results. They make a big improvement in our production. These lenses have character you can see."
"But the thing I appreciate the most, is the blue flare. And I like flare so much," says Cailloux.
"I've used the lenses a lot now, in diverse situations all over the planet. For sure they're heavy, and a bit big for my work, but they have a huge impact in term of quality of footage," he explains. "If I could change anything on these lenses, it would be the size to suit the Sony A7 cameras more and make them more convenient to travel with. That's especially important for people like me, who travel a lot and have to hike to get access to shoots.
"I recommend them to anyone who wants to improve the quality of their production. They are bit more expensive, but they are still affordable and almost cheap compared to some other brands.
Lenses create the style and character of your footage, which is so important."
Images by Arnaud Cailloux