The Tiffen Company Demonstrates New Steadicam Steadimate-s At Nab 2019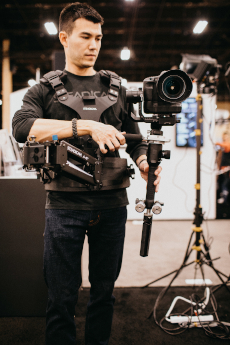 Our long term partner, The Tiffen Company, the leading manufacturer of imaging accessories for the consumer/professional imaging and the motion picture and broadcast television industries, announces the addition of the Steadimate-S to its Steadicamline of camera stabilizers.
Presented for the first time at NAB 2019, the Steadicam Steadimate-S offers camera operators increased freedom, endurance, and creative opportunity when working with single-handed motorized stabilizers like the DJI Ronin-S®. By pairing a single-handed stabilizer with a body- worn stabilizer the DJI Ronin-S can be operated for hours with minimal physical fatigue while maintaining a wide range of vertical movement and adding full panning ability and "low-mode" operation.
Users can minimize or completely eliminate the bouncing image effect that often occurs when using single-handled stabilizers as the Steadimate-S provides x-axis and y-axis stabilization while the Steadicam arm provides z-axis stabilization. The addition of the Steadimate-S easily and affordably transforms single-handed motorized gimbals into professional video stabilization systems.
"The Steadicam Steadimate-S is a new, elegant solution designed to add stability, operational comfort, and panning ability to single-handed stabilizers that are popular with camera operators," said Andrew Tiffen , SVP of Marketing, The Tiffen Company. "We look forward to debuting and demonstrating this latest camera stabilizer in our booth at the NAB Show."
The Steadimate-S comes standard with a post block and balance pin that fits arms with 1/2″ posts. The weight capacity varies depending on the single-handed stabilizer, arm, and vest being used. The Steadimate-S adapter can be purchased on its own for use with existing arms and vests, or as a complete kit available in two weight classes. The Steadimate-S 15 System comes with the A-15 Arm & Scout Vest and offers a 15 lbs./6.8 kg weight capacity, while the Steadimate-S 30 System comes with the A-30 Arm & Zephyr Vest and boasts a 30 lbs./13.6 kg capacity.
Visitors is able to get hands-on with Tiffen 's innovative and award-winning imaging accessories at NAB2019 LVCC Central Hall – Booth #C6821.