The New Lightweight Steadicam® Air Monopod Is Now Available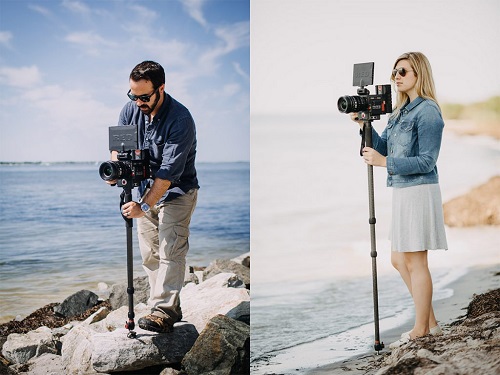 The brand synonymous with camera stabilisers has introduced a revolutionary new product! Steadicam ®, a division of The Tiffen Company, which has been loved by cinematographers since its invention in 1976, adds to its portfolio with the new Steadicam Air — a monopod that is gas-lift activated by a foot pedal for adjustable height. 
Simple and Stable
Steadicam Air is a lightweight carbon fibre pneumatic monopod designed for professional cinematographers and photographers. The 1.6kg (3.5lbs) monopod is made up of three sections, including a twist leg lock that allows for 360-degree rotation. It is easily and efficiently operated via a rubberised, non-slip foot pedal. The pedal also folds up for easier transport and storage. TheSteadicam Air is 71cm (28 inches) when collapsed, and can be extended to 1.6m (62.5 inches) for ultimate versatility.
Two models are available: the Steadicam Air-25 with a weight capacity of 11.3kg (25lbs), and the Steadicam Air-15 with a weight capacity of 8.6kg (15lbs).
Steadicam Air is now available in Mainland China and Hong Kong through Cinematic & Broadcast Solutions of Jebsen Industrial Distribution & Services.
Steadicam Air Video:
To learn more about the Steadicam Air, please contact the Cinematic & Broadcast Solutions team of Jebsen Industrial Distribution & Service at indenquiry@jebsen.com.