The Accessible Angenieux Type EZ Will Only Become More Popular: An Interview With Guang Da Ren He Film Equipment's General Manager Cheng Wang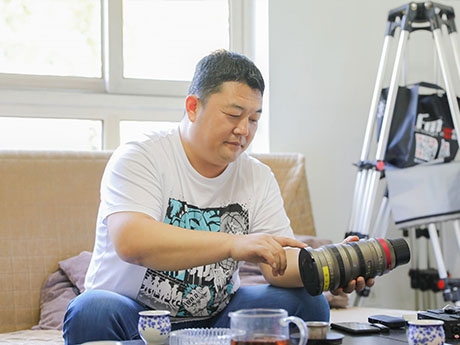 As a former cinematographer, Mr. Yihe Li is not only passionate but also well researched when it comes to equipment and technology. Today, he manages one of China's leading rental houses — Flaming Mountains Co. Ltd. In addition to running the company's daily operations, he spends much of his time researching new products and technologies. In this interview, Mr. Li shares his user experience and reflects on the past and present of Angenieux lenses.
The widespread popularity that Angenieux Type EZ lenses enjoy in China today can be credited, in part, to the support of its very first users. One in particular stands out. Beijing Guang Da Ren He Film Equipment Co., Ltd (Guang Da Ren He) was the first equipment rental company to pre-order the entire set of Type EZ full frame lenses. In addition to this public gesture of trust in the Angenieuxbrand, the company also went behind the scenes to recommend Type EZ to customers and friends in private.
Today, Guang Da Ren He is the top owner and user of Type EZ lenses and General Manager Mr Cheng Wang is full of enthusiasm forAngenieux and Type EZ.
Angenieux : Would you please introduce yourself?
GDRH: I am the General Manager of Guang Da Ren He. I joined the equipment leasing industry in 2001. Before which, I had a short photography career. My teacher at the Beijing Broadcasting Institute (the predecessor of Communication University of China) was a consultant for a TV station, so I tagged along and did photography for several programmes. After the separation of TV production and broadcasting, I left the station and joined a company as a production crew member. I later took on responsibility for some equipment and, before I knew it, I was in the equipment leasing business.
I started from scratch—set up my own office, reconnected with former colleagues, and even went knocking on doors to promote sales. In a blink of an eye, it has been 16 years and I have become an industry veteran. Having been around for so long, I think I have earned a good industry network and some measure of trust.
Angenieux : Why did you decide to buy the Angenieux Type EZ lenses?
GDRH: There are so many reasons to buy it. Everyone in this industry knows Angenieux but, for a long time, the brand was out of our reach. Then came the accessible Angenieux Type EZ. We were all quite surprised. Despite its affordable price tag, Type EZ does not compromise on quality. In fact, many cinematographers who have tried the
lenses have nothing but praise for it. The strong brand name aside, what really matters to us is that Type EZ offers a practical focal length and at full frame too.
Full frame lenses tend to have a longer lifespan, which is very valuable to rental houses. Our initial idea was very simply to pair the 15-40 and 45-135 lenses as this would cover all the fundamental focal lengths that cinematographers need and offer an additional 135mm focal length. So in October 2016, when pre-orders for Type EZ opened, we ordered a set of 22-60mm T3.0 and 45-135mm T3.0 lenses. I should add that these lenses are very light, which makes them easy to transport and use on set. It is also very simple to change the mount, whether to PL, EF, or E. At the time, I predicted that in 2018 if stock levels increase and the lenses become widely available, Type EZ would become a 'magic weapon'.
Angenieux : In what kind of productions do you usually use the Angenieux Type EZ lenses?
GDRH: One of my Type EZ was used in a movie production. Filming lasted about 20 days. The rest are mainly documentaries, feature films, and talk shows. Ma Weidu's Night at the Museum was also shot with these lenses. The director insisted on Angenieux Type EZ lenses and told me to make sure they were available for him no matter what.
Documentaries are a great format for Type EZ. The lenses are light and portable, and all you need are two zoom lenses. Easy. The image quality is also excellent—colours are good and images are rich and textured. The lenses are also a practical choice for TV shows and drama series.
Personally, I like to experiment, such as making comparisons with premium prime lenses. Cinematographers who have used both prime and Type EZ lenses would simply need to compare the footage from each, and would be able to tell which was shot withAngenieux . It's amazing that such lenses are available at such an affordable price.
Angenieux : What are the advantages of the Interchangeable Rear Optics (IRO) technology? Can you use it to switch between S35 and full frame?
GDRH: We do such switches all the time. For a rental house, IRO helps us reduce costs and increase possibilities. When one lens offers two uses, it satisfies many different production needs.
From a user's perspective, zoom lenses are a time saver, and saving time means saving money and manpower. Using a set of prime lenses requires an additional headcount and extra time on set adjusting equipment and changing lenses. Type EZ clicks into place with the push of a finger and, even with a different lens, the camera's weight and size barely changes, making it more convenient.
Changeable focal lengths, frames, and mounts, those are Type EZ's greatest charms.