Serving China's Cinematic Industry From Film To Digital: An Interview With Beijing Cinerent's General Manager Yang He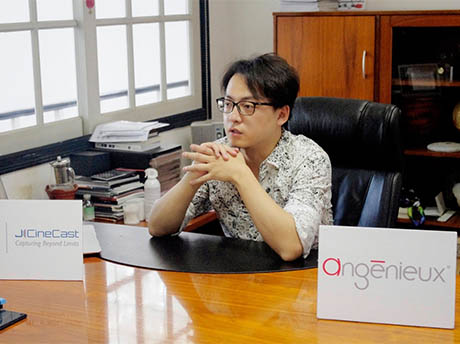 Since its founding in 1995, Beijing Cinerent Group has been serving China's high-end movie and TV show production teams. In the era of film, it practically monopolised the industry. With its strong industry relationships, Cinerent navigated the transition from film to digital in the company of cinematographers, exploring this brave new world together. Today, Cinerent has the benefit of past experience and a drive to shape the future. As one of the country's largest and most professional rental houses, and an important business partner of Angenieux , Cinerent has its own views on the development of the Chinese cinematic industry.
Angenieux : As a rental house, how do you position the Angenieux brand?
Cinerent: Angenieux represents the most advanced zoom lens technology. Its products are able to meet the needs of cinematographers and high-end production teams, so the Angenieux brand is synonymous with premium cinematic lenses. Cinerent has a rather large inventory of Angenieux lenses, representing 70-80% of all our zoom lenses. We mainly carry the Optimo series, such as the 15-40, 28-76, and 45-120. We also have a number of the classic 24-290 and 28-340.
Angenieux : In your opinion, what is Angenieux 's brand image?
Cinerent: Besides being high-end, I think the brand is low key. In this world of new media, we hardly see Angenieux advertising or actively promoting its products. Even for new products, Angenieux rarely organises fancy launch events. It does not try to package its products. Instead, it allows its products to speak for themselves. It is a well-known and well-reputed brand.
Angenieux : How does Angenieux 's technology help your company in its business development?
Cinerent: Angenieux products are exceptional. With Angenieux 's quality guarantee, we are very assured when we lease out equipment. We know that Angenieux lenses are the right choice, and this choice also caters well to the needs of cinematographers. Thanks to Angenieux , we have become bolder in our procurement strategy and more confident in recommending cinematic lenses to our customers. In terms of business development, these days, almost every production team would request for Angenieux zooms. We have encountered low-budget production teams that can only afford to rent one camera but still insist on the Angenieux 24-290 or 28-340.
Angenieux : In your opinion, what are the benefits of using Angenieux 's zoom lenses?
Cinerent: To us, as a rental house, we benefit from Angenieux 's quality guarantee. But we serve cinematographers and, to them, the greatest benefit is high image quality. Cinematographers typically choose different prime lenses for different stories or scenes. Regardless of the prime lenses that they use, when it comes to zoom, their choice is always Angenieux . That says that the shooting quality and cinematic style of Angenieux lenses has been widely acknowledged. Hardly anyone would argue with the use of Angenieux zooms.
Angenieux also does something else very well—its designs are very practical. Let's talk about focal length. Its lighter zoom lenses, like the 15-40 and 28-76, are very similar in terms of quality and size. So whether cinematographers are carrying the camera on their shoulders or using a stabiliser, they are able to switch lenses very quickly on set to achieve the cinematic results that they want. Heavier lenses, like the classic 24-290 and 28-340, are sometimes used with the main camera or the 'B' camera. With their 12X zoom, they can cover the entire focal range from wide angle to long range, making it very convenient.
Angenieux lenses also offer stable quality. During the zooming process, the lenses are able to effectively weaken optical distortion, so shooting from near or far results in the same image quality. The design and construction of the lenses make them more durable, even in harsh environments like Antarctica or the desert. The functionality of Angenieux lenses make them popular with cinematographers and production teams alike.
Because Angenieux lenses are well built, maintenance costs are lower. Angenieux also provides technical training and any Cinerent employee with basic foundation can undergo the training. This allows us to grow our own technical expertise and resolve issues in-house. In this way, we are able to guarantee quality, rental volumes, and customer satisfaction.
Angenieux : What's your take on Angenieux 's latest Interchangeable Rear Optics (IRO) technology?
Cinerent: IRO makes it possible to switch between anamorphic and spherical lenses, like the Anamorphic 44-440 and the Spherical Optimo 25-250, and between S35 and full frame lenses. For example, the Angenieux Type EZ at S35 format are 15-40 and 30-90. With IRO, this can become full frame 22-60 and 45-135. Lastly, with IRO, the super 24-290 can achieve a focal length of 36-435mm.
I think this technology is a very smart idea. It enables interaction between people and lenses. The romantic nature of the French can really be seen here, as cinematographers and production team members are brought closer to their lenses. IRO also allows one lens to play many roles. This guarantees a higher return on investment.
For those reasons, I believe that the IRO has good prospects. I personally like it very much, mainly because I can feel the thoughtfulness of the person who developed it.
Angenieux : Which are the most popular Angenieux cinematic lenses in China and why?
Cinerent: I feel that the entire Angenieux range is very popular. At Cinerent, we started with the Optimo spherical zoom lens series. Almost every production team looking for zoom lenses will choose this series, so I would say it is the most popular one in China. Just as popular is the Anamorphic series. The 30-72, 56-152 and 44-440 have become the benchmark for anamorphic lenses. Whether cinematographers use MA, Hwak or Kowa for focusing with anamorphic lenses, they always choose Angenieux for zoom. From spherical to wide-screen, it's all Angenieux .
Angenieux : How is your company adapting to the digitisation of the industry?
Cinerent: The transition from film to digital was pretty challenging for us. We have about 20 to 30 film cameras that have been sitting idly in our warehouse for years. These are almost collector's items now.
Cinerent has a rich history in film. We saw how China's fifth-generation cinematographers, like Zhao Xiaoding, Lü Yue, and Zhang Li, were very welcoming of digitisation. They shot with film their whole lives. The change to digital meant starting from scratch again, carrying a book like a child going to school. But they were willing to apply digital filmmaking techniques to their work. The movie A Woman, A Gun and A Noodle Shop was among the first local productions shot with digital cameras.
The change from film to digital is a journey that we shared with many cinematographers. When I was in film school, our graduation projects were shot on film. At that time, there was a movie Miami Vice starring actress Gong Li. We were told that the entire movie was shot with digital cameras, and could barely believe it. We believed that, even a few years down the road, film would still have a market. But it vanished without trace, and digital took over. That sense of disbelief would probably be similar to the reaction we would get today if we heard that a movie was shot entirely on film.
It took Cinerent a year or two to make the full transition from film to digital. Because digital technology was just taking off and film had ruled for so long, it took some time for people to accept the change. One by one, famous cinematographers began to use digital equipment. When people saw how digital footage gave post-production crew wings and how the final product could be as beautiful as film, they started to realise that digital filmmaking was feasible.
Angenieux : Do you think that the Chinese cinematic and broadcasting industry has any hidden needs in terms of equipment?
Cinerent: In terms of equipment needs, I would say formalisation and premiumisation. The more we interact with cinematographers, the more we discover that they constantly want better equipment and more complete accessories. Foreign cinematographers can have as many as 70 accessories for one camera, with each accessory playing a specific role. In the past, Chinese cinematographers and production teams did not have many requirements. But as they seek improvement and perfection, they have come to adopt a more holistic perspective when choosing their equipment. It is important that we are ready to meet their needs. There are even times when we customise products to cater to unique requirements. For example, there was a movie starring actor Huang Bo, where we created a 'human camera stand'. It was essentially a ring float mounted with a camera to shoot from a first-person perspective.
Cinematographers are also increasingly demanding when it comes to equipment quality. This can be seen from their insistence on authentic products. In China's equipment industry, there is no lack of imitations. Initially, people did not understand the difference and thought that imitations would be similar to the real thing. But imitations are made cheaply and, more often than not, they create problems on set.
Since then, film education has progressed and cinematographers are better trained. They have higher expectations of their equipment. Increasingly, they seek formalisation, premiumisation, and professionalisation, not only of their equipment, but also of their rental houses.
Angenieux : In China, which production categories are currently in the high-growth stage?
Cinerent: High-end TV series. Also, because China is producing more well-made, Hollywood-style blockbusters, investments in movie production are steadily increasing. This leads to better movies.
This year, we participated in two shows, Emperor's Conquest and The Legend and The Hero. The equipment used by these two productions alone was equivalent to that of 20 to 30 regular productions. The team was very professional and very knowledgeable about equipment. Naturally, they had very high expectations. We were very happy to work with and serve them. I think this marks the start of a new turning point. Everyone says that Hollywood movies have an indelible place in people's hearts, but it probably won't take long for Chinese cinema to achieve this and more. Against this backdrop, a major driving force will be the industrialisation and scalability of the industry, in addition to formalisation.
Personally, I would like to see people and culture movies that are shot and packaged in a more commercial manner. It is about taking a good story and telling it in a commercially appealing way. Movies that have succeeded with such a narrative would include Wolf Warrior and Dying to Survive.
Angenieux : Do you have anything else to add?
Cinerent: We are thankful to everyone at Angenieux for designing and developing lenses that are close to perfection. This is a really tough task but Angenieux has done it. I hope that Angenieux will continue to support cinematographers and rental houses by producing even better products. At Cinerent, we hope to move forward with Angenieux , create new miracles in the industry, and leave our mark in history together.