Recognising Exemplary Work: The JI Staff Awards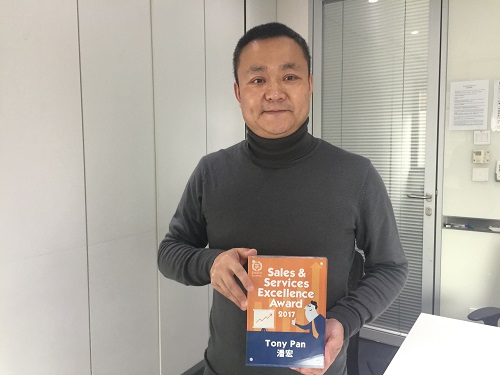 Celebrating the hard work and contributions of its people is an important part of Jebsen Industrial's employer philosophy. After all, a company is only as good as its people, and there is no better motivation for people to strive and perform than a recognition of their effort and excellence.
In award presentations held in Hong Kong (3 November) and Shanghai (6 November), Managing Director Maximilian von Stillfried recognised four colleagues with the Sales and Services Excellence Award 2017, and announced two team members as the first recipients of the year's newest honours, the Best Partner Award and The Innovator Award.
Sales and Services Excellence Award
The Sales and Services Excellence Award recognises colleagues who have displayed outstanding sales and service performance, creating value for JI customers and contributing to revenue and sales generation.
The four awardees include three-time award recipient Tony Pan of the Automation & Services Unit, who also won the award in 2015 and 2016. "It is important that one not only focuses on contributing sales to the business, but on maintaining a consistent performance that benefits both customers and the company," said Tony.
Thomas Choi of the Building Products Unit, a first-time award winner, was recognised for delivering excellent sales and services in the Malvern College Hong Kong project. "To me, great service means taking time to fully understand the requirements and pain points of our customers, and providing them with customised solutions," shared Thomas.
Another first-time award recipient is June Fung of the Cinematic & Broadcasting Solutions Unit, who received the award for her knack for building customer loyalty. "I builds trust with customers and these relationships have greatly supported my initiatives in developing or expanding to new markets," June explained.

Edison Chao of the Specialty Ingredients &Solutions Unit, also receiving the award for the first time, was credited for being one of the key GP contributors to the company. "I have been with the company for a long time, and one principle has never wavered: giving your best to every single thing you do at work, and you will earn the trust and respect of your colleague and customers," said Edison.
The four winners each received a cash award, gift certificate, and a personalised "Thank You" card from Mr. von Stillfried.
Best Partner Award
The Best Partner Award is a new initiative launched to recognise back office employees who provide support to internal customers. Any JI employee can nominate a colleague for the recognition.
The very first Best Partner Award winner was Elsie Lui of the Building Products Unit, Administration Supervisor for customer services. "To provide the best support, always be willing to lend a helping hand to colleagues. It's all about being proactive," Elsie said.
The Innovator Award
In line with Jebsen Industrial's strategy to drive continuous innovation, the Innovator Award was created this year to commend employees who came up with, and applied innovative ideas with demonstrated results. Team members were invited to submit their nominations through the JInnovate platform.
The most innovative idea this year came from Mike Long of JI Marketing, who proposed the Name Card Lead Management project to offer an easier, cheaper and faster way to handle business cards collected during trade shows. "Jebsen Industrial provides a supportive environment for innovative ideas big or small. My idea started as a simple desire to make work easier for my colleagues, and I am so happy to see it becoming reality," explained Mike.

Winners of the Best Partner and the Innovator Award are entitled to one day personal leave as a reward for their contribution.