Pierre AngÉnieux Excellens In Cinematography 2018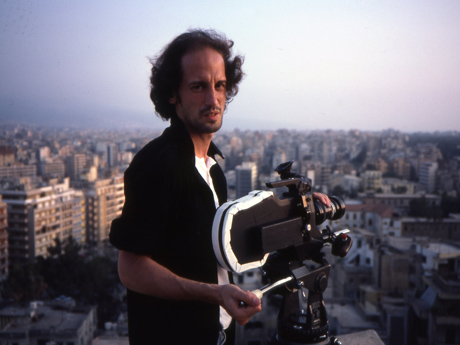 Tribute to / Hommage à Edward Lachman (A.S.C.)
Friday May 18th 2018
Buñuel Theatre, Palais des Festivals – 8 pm
Every year, the "Pierre Angénieux ExcelLens in Cinematography" ceremony turns the spotlight on a director of photography whose work has marked the history of world cinema. Since its inception in 2013, tribute has been paid to Philippe Rousselot (AFC*, ASC*), Vilmos Zsigmond (HSC*, ASC) in 2014, Roger A. Deakins (BSC*, ASC) in 2015, Peter Suschitzky (ASC) in 2016 and Christopher Doyle(HKSC*) in 2017. In 2018, American photographer, filmmaker and director of photography Edward Lachman will receive the Pierre Angénieux ExcelLens in Cinematography during an exceptional ceremony at the 71st Cannes Film Festival.
Edward Lachman in Beirut during the filming of Mother Teresa by Ann & Jeanette Petrie (1986) – Angénieux lens (Photo credit: Mitch Dubin)
With a career spanning 45 years and comprising an eclectic mix of over 75 films and documentaries, Edward Lachman has served as director of photography on films by Werner Herzog, Jonathan Demme, Susan Seidelman, Dennis Hopper, Paul Schrader, Mira Nair, Andrew Niccol, Robert Altman, Todd Solondz or Larry Clark, with whom he co-directed the very sensuous Ken Park.
Many films on which he worked as cinematographer were selected in Cannes: documentaries by Wim Wenders – including Lightning over Water, co-directed with Nicholas Ray, or Tokyo-Ga –, Little Wars by Maroun Bagdadi, A Gathering of Old Men by Volker Schlöndorff, Virgin Suicides by Sofia Coppola, Import/Export and the Paradise trilogy by Austrian filmmaker Ulrich Seidl, The Limey by Steven Soderbergh, whose Erin Brockovich he also endowed with a crisp, realistic tone. Angénieux zoom lenses were used in both films.
But it is in Todd Haynes's last four films (Far from Heaven, I'm not There, Carol and Wonderstruck) that his work took on a new dimension, set between expressionism and intimacy, classical aesthetics and modern stylisation.
Edward Lachman and Todd Haynes during the filming of Wonderstruck – Angénieux lens (Photo credit: Mary Cybulski)
His use of light underscores tormented characters' psychological subtleties without bearing down on the sensitivities of highly emotional dramas. Julianne Moore (Far from Heaven, 2002) and Cate Blanchett (Carol, 2015), both fighting for their desire and licking their wounds, are magnificent women in a world whose contrasted hues bring to the fore the impossibility of love within a false, moralistic society.
Both films earned Edward Lachman an Academy Award nomination for Best Cinematography. Furthermore, Carol in 2015 and Wonderstruck in 2017 were in competition at Cannes Film Festival. An art lover enthralled by his own work, he is akin to a painter using an infinite colour palette. Endlessly experimenting and bold, Edward Lachman has the amazing ability to "make" pictures that linger in us for a long time.
After receiving a prize by the American Society of Cinematographers to distinguish his entire work last year, being the laureate of some 40 international awards and having his work shown in art institutions all over the world, Edward Lachman will be awarded with the "Pierre Angénieux ExcelLens in Cinematography" on Friday May 18th at the Buñuel Theatre, Palais des Festivals, along with the many talents who have accompanied him throughout his career.
In 2018, Angénieux will also recognize the work of a young film professional
While acknowledging the contribution of the greatest movie professionals, Angénieux will, for the first time in 2018 during the "Pierre Angénieux ExcelLens in Cinematography" ceremony, strongly affirm its interest in and support to fledgling creative talents in the international film industry.
This year, Angénieux will, during this exceptional ceremony, distinguish Chinese young cinematographer Cecile Zhang– who graduated with honors from the Beijing Film Academy – by giving her the opportunity to use an Angénieux zoom lens on her next project. The lens – from the Optimo or Optimo Anamorphic range, as they will wish – will be on loan during the shooting stage. The winner will thus experience firsthand the image sharpness and quality of rendering that helped establish the lenses' reputation.
Chinese young cinematographer Cecile Zhang (Photo credit: NA Ti)
Angénieux
Angénieux is the worldwide recognized brand of Thales group for manufacturing zoom lenses used in motion picture production. Since its creation in 1935 by Pierre Angénieux, the company has experienced remarkable achievements.
Awarded four times in Hollywood by the Academy of Motion picture Arts and Sciences in 1964,1989 and 2008, and by the Society of Camera Operators in 2012, as well as in 2014 by the British Society of Cinematographers, Angénieux lenses are utilized all around the world by the most demanding image professionals.
In 2013, for the first time in its history, Angénieux became an Official Partner of the Festival de Cannes, and created the "Pierre Angénieux ExcelLens in Cinematography", a ceremony to spotlight the work of directors of photography. For more than 80 years, with their demanding aesthetics and techniques, Directors of Photography have secured the success of Angénieux zoom lenses. In honor, Angénieux pays tribute to these men and women without whom cinema would not exist.
Edward Lachman used Angénieux lens
2017 : Wonderstruck, Todd Haynes
2016 : Wiener Dog, Todd Solondz
2015 : Carol, Todd Haynes
2007 : I'm not There, Todd Haynes
2000 : Erin Brockovich, Steven Soderbergh
1999 : The Limey, Steven Soderbergh
1986 : Mother Teresa (Doc), Ann & Jeanette Petrie
* AFC : Association Française des directeurs de la photographie Cinématographique / ASC : American Society of Cinematographers / HSC : Hungarian Society of Cinematographers / BSC : British Society of Cinematographers / HKSC : Hong-Kong Society of Cinematographers