New AngÉnieux Optimo Ultra 12x: Full Frame, U35, S35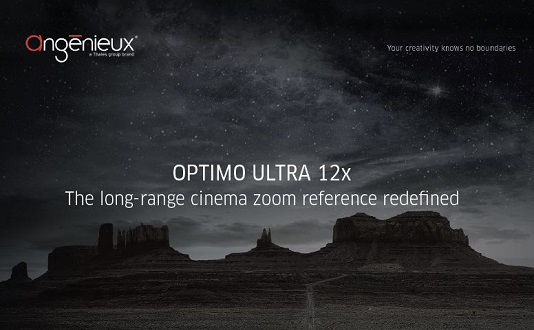 Long Range Multi-Format Design Zoom Lens at IBC 2017

Angénieux continues to lead the market through new and innovative zoom lens series. Following on from the Angénieux Type EZ Series for S35mm and larger image formats, at IBC 2017 a next-generation multi-format 12x Optimo zoom lens for the high-end production market will be announced. 

The Angénieux Optimo Ultra 12x is a high-end, multi-format zoom with interchangeable modules to cover sensor sizes from Full Frame 24×36 and RED 8K VV to U35 and S35. It is the venerable Optimo 24-290 reference redefined, the zoom lens that accompanied almost every major motion picture production since it was introduced in September 2001.
Now, sixteen years later, the new Optimo Ultra 12x Zoom refreshes the industry benchmark with a completely new design, even better optics and more rugged mechanics. The classic Angénieux cinematic look continues with smooth skin tones and a pleasing balance between contrast and resolution.
One of the key success for Angénieux is the introduction of the unique IRO Interchangeable Rear Optics technology, a revolutionary modular lens design that enables different lens configurations. "Enabling customers to configure their lenses optimized for projects and/or cameras is truly a unique feature that is only available from Angénieux" says Christophe Remontet – Managing Director, Angenieux Partnerships & Business Development. 

The Angénieux IRO technology was first built into the 10x Optimo zoom, allowing a swap of the lens from its anamorphic version, the 44-440 A2S Optimo, to its spherical version, the 25-250 Optimo Style. The IRO technology built into the EZ zooms allows a configuration of the lens either in S35 or FF/VV format. 

The new challenge for Angénieux was to offer a new generation of lenses with an even higher quality for Full Frame feature and high-end digital content production. The Optimo Ultra achieves this by covering many formats: Full Frame/VV, Ultra35 (Super35Plus) and Super35. Versatility is achieved by swapping the rear group and lens barrels of the base lens, which is the Angénieux Optimo Ultra 12x 24-290. 

Changing formats is as simple as unscrewing the rear assembly, swapping the focus, iris and zoom rings, and attaching the new rear group. It is a quick and easy task for rental houses and service facilities. Rings and rear groups are calibrated and optimized for each specific lens, with the same serial number on each component. In this way, focus marks remain consistent and re-shimming should not be necessary.

How does the new Optimo Ultra 12x in its basic S35 configuration compare with the venerable Angénieux 24-290? The Optimo Ultra covers a larger image circle: 31.1 vs 30 mm. Maximum aperture is the same, T2.8—as is the 162mm front diameter and close focus of 4 feet. At 472mm long, the Ultra 12x is only 32mm (1.3″) longer than its predecessor.

Three Formats


S35 24-290mm T2.8 – 31.1mm Ø (All S35 cameras)
U35 (Super35Plus) 26-320mm T3.1 – 34.6mm Ø (ARRI Open Gate / 6K RED Dragon, RED Helium 8K)
Full Frame FF/VV 36-435mm T4.2 – 46.3mm Ø (for Sony's new Full Frame camera, RED 8K VV, Panavision Millennium DXL (8K VV), ARRI Alexa 65 cropped to FF)
Two packages will be available [Prices to be announced at IBC 2017]:
Standard Optimo Ultra 12x package : Zoom S35 + U35 Kit
Full Optimo Ultra 12x package : Zoom S35 + U35 Kit + FF/VV Kit

Full Frame 36-435mm T4.2 – 46.3mm Ø for Full Frame/VV Cameras: New Sony FF, RED 8K VV, Panavision Millenium DXL, ARRI Alexa 65 cropped to FF



U35 26-320mm T3.1 – 34.6mm Ø for "Super35Plus" Cameras, ARRI Open Gate, RED 6K Dragon, RED Helium 8K



S35 24-290mm T2.8 31.1mm Ø for all Super35 cameras.


Optical Design
New optical design to enable Full Frame and VV coverage
Up to 200 LPM resolution. (40 LPM = 4K; 80 LPM = 8K)
Superb image quality. No ramping of aperture
Minimal breathing of focus. Fast maximum aperture
IRO Interchangeable Rear Optics
Aspheric elements minimize color fringing and distortion
Short MOD (Minimum Object Distance – Close Focus)
U35 Lens Kit


FF/VV Lens Kit



Mechanical Design

• Completely updated design from the 24-290 and 28-340
• Improved durability with special anti-abrasion coating
• Weight reduction of moving components using new materials
• Improved resistance to moisture and dust (with dust traps)
• Precise, assistant-friendly focus ring with 321 degrees of rotation and more than 70 focus marks
• User changeable focus barrels
• Passive thermal compensation from -20°C to +40°C means focus marks remain accurate in extreme weather conditions and the zoom stays smooth even in very cold climates
• Accepts many different lens mounts

Accessories

• Screw-in Front Protective Glass Optical Flat
• Carrying Handle
• Angénieux's existing 1.4x and 2x Extenders are
• compatible with the S35 version, but not with the
• U35 and FF/VV versions of the Optimo Ultra
• 12x Zoom
Angenieux Optimo Ultra 12x Zoom Specification
Please contact us if you want to know more information about price: 400 9696 223. Brochure for your download:
Camera recording for matcom bination.pdf
PDF, 0.16MB
Plaquette angenieux 190×270
PDF, 6.48MB