ND Film/rental Offers Servicevision's Most Powerful Scorpio 45' To Grasp Demand For Next-generation Filming Technology In China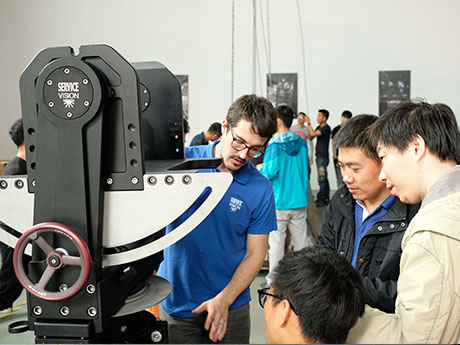 The Challenge: State-of-the-art Technology Needed for More Efficient Film Production
Recent report showed that domestic films have overtaken Hollywood blockbusters in the first six months of 2018, accounting for 60 per cent or 19 billion yuan (US.85 billion) of the 32 billion yuan in the Chinese box office revenue. The paradigm shift of the market underlines the demand from home-grown filmmaking companies for revolutionary technologies that can meet the growing thirst for quality locally produced movies.
Founded in 2013, ND Film/Rental provides rental and support services of top-tier filmmaking equipment with an aim to facilitate robust productions in an efficient way. It has a repertoire of domestic films, TV series and TV commercials for renowned international brands and companies, including the Asian version of Adidas Originals' TV commercial "Keep Pushin'" and domestic micro movie, Lotus Inn 3 (忘忧酒馆3).
"We are seeing an unprecedented demand for world-class equipment to enhance production efficiency while local productions are on the rise," said Mr. Wu Hao, CEO of ND Film/Rental. "JCineCast is an ideal partner for us to seize this market opportunity as it provides profound expertise from film equipment deployment to maintenance services."
The Solution: Servicevision's Scorpio 45' Telescopic Crane, Technical Training and Aftersales Service from JCineCast
JCineCast, Jebsen Industrial's Cinematic and Broadcasting Solutions brand, delivers Servicevision's Scorpio 45' Telescopic Crane to ND Film/Rental together with tailor-made technical training and comprehensive aftersales service to help the film equipment rental company capture market needs.
After consultation with JCineCast, ND Film/Rental added Servicevision's Scorpio 45' to its suite of grip products. Its customers can now take advantage of the most powerful telescopic crane by Servicevision, leveraging the latest equipment enhancements to the Scorpio series of products using pan, tilt and travelling encoders. The programmable features of the telescopic movement of Scorpio 45' arm not only significantly boost control efficiency, but also enable flawless scene transition thanks to automatic movement that follows the target between low and high angles, making it the perfect product for truly dynamic pictures in various scenes. This will significantly enhance filming efficiency for such productions as big-budget TV drama series, films, commercials, concerts and sporting events.
Renowned for over two decades of R&D excellence, Servicevision is a world famous manufacturer of cinematographic equipment. The company produces well-acclaimed cranes, hotheads and remote controls that are featured in many Hollywood blockbusters like Lord of the Rings, King Kong, James Bondand Superman.
"The robust features and flexibility of Scorpio 45' can help filmmakers in China create more sophisticated visual impact," said Mr. Wu Hao. "With the addition of Scorpio 45' Telescopic Crane to our product portfolio, we are better positioned to enable them to take visual excellence to a new height."
Professional Training and Aftersales Service to Optimise Product Performance
Powered by the most advanced technologies among products of the same grade, the Scorpio 45' is relatively new to the Chinese market. While adopting this state-of-the-art telescopic crane, ND Film/Rental is required to harness this innovative product to the optimal performance. Thanks to JCineCast's professional technical training and aftersales service, ND Film/Rental has overcome this challenge and is all set to effectively demonstrate this equipment to its customers.
JCineCast organised a customised training workshop for ND Film/Rental, taking a deep dive into the application and maintenance of Scorpio 45'. Mr. Carlos Sebastia Rodriguez, Technician of Servicevision was invited to host the training, which provided hands-on experiences for ND Film/Rental staff to properly install and operate the Scorpio 45' Telescopic Crane.
Carlos also provided essential tips and tricks on daily maintenance of the product. In particular, he highlighted specific requirements for transportation arrangement of this gigantic equipment, for which proper storage and cargo van transport is extremely important.
"The training session is crucial to the team," said Mr. Wu Hao. "It delivers essential technical know-how ad helps us build up full confidence in promoting the product to our customers."
"You can't see the beauty of a product without training and hands-on experience," said Mr. Jack Yu, Head of Jebsen Industrial Cinematic & Broadcasting Solutions. "JCineCast is doing our best to help rental companies and filmmakers in China master the robust features of this equipment."
The implementation of Scorpio 45' is also thoroughly supported by JCineCare, the film equipment repair and maintenance service centre by JCineCast. ND Film/Rental is left hassle-free while deploying Scorpio 45' thanks to the manufacturer-grade facilities and service technicians qualified and certified by Servicevision at JCineCare.
"For such a cutting-edge technological product, masterful aftersales service is of utmost importance to us," said Mr. Wu Hao. "Like many customers, our requirement is very simple – fast and professional services. JCineCast has demonstrated a proven track record on both qualities."
"We understand what aftersales service means to our customers," said Mr. Jack Yu. "That's why we have heavily invested in our technician training to ensure prompt and professional services comparable to the original manufacturers'."