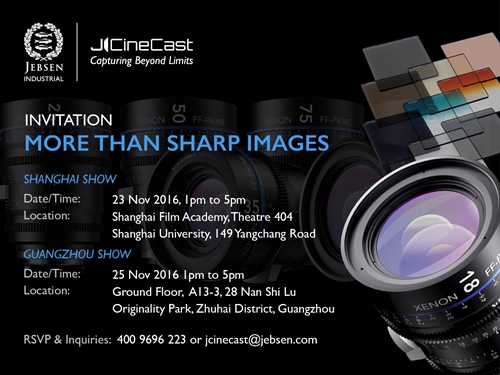 Date: 2016.11.23 ~ 2016.11.25

Venue: Shanghai University, Shanghai Film Academy, Tank Club

Booth: JCineCast Booth

City: Shanghai, Guangzhou

Seminar "Tell Story with Good Lens and Filter" will be held on 23 Nov and 25 Nov in Shanghai and Guangzhou. JCineCast invites photographers, directors of photography, filmmakers, shutterbugs and equipment leasing companies with Schneider to attend this event.

Shanghai Session
Date/Time: 23 Nov 2016, 1pm to 5 pm
Location: Shanghai Film Academy, Theatre 404 Shanghai University, 149 Yangchang Road
Host: Mr. Zhang, Shanghai Film Academy, Shanghai University
Mr. Hao, Technical Manager, JCineCast
Guangzhou Session
Date/ Time: 25 Nov 2016, 1pm to 5pm
Location: Ground Floor, A13-3, 28 Nan Shi Lu Originality Park, Zhuhai District, Guangzhou
Speaker:
Dr. Ira Tiffen , MPTV President, Schneider
Have more than 40 years' experience in optical glass development and research, create many important filter effects, and achieve a number of patents.
Honors:
OSCARS Technical Contribution Award
EMMY Primetime Award
Member of American Society of Cinematographers (ASC)
Academician of Society of Motion Picture and Television Engineers (SMPTE)
Honorary Doctorate of Columbia College
Overview of Seminar:
The First Part About Lens
How to define the "style" of lens
Bokeh, lens luminous efficiency, lens flare
Match your needs from appearance, color, size and weight angles
The Second Part About Filter
Share the advantages of Flier
Effects of filter
Skills and experience of using filter
Acknowledgement:
Please contact us immediately to register in advance and receive gifts.
Please contact us by e-mail (cinecast@jebsen.com) or call us at 400-9696-223.
Thanks for your support, and we look forward to seeing you at the "Tell Every Story with Good Lens and Filter" event!