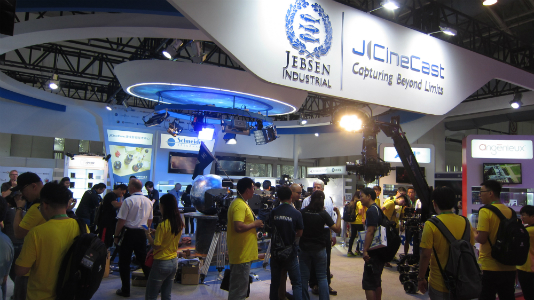 Date: 2016.08.24 ~ 2016.08.27

City: Beijing
Jebsen Industrial's Cinematic & Broadcasting Solutions brand presents
an intergalactic showcase to inspire the industry to 'Capture Beyond Limits'
JCineCast returned to the Beijing International Radio, TV & Film Exhibition (BIRTV) from August 24 to 27, 2016 at China International Exhibition Centre in Beijing, China, to take filmmakers on an epic space journey into the future. The brand, which represents Jebsen Industrial's multi-channel, multi-brand solutions for the cinematic and broadcasting industry, based its participation in the annual tradeshow on the theme 'Outer Space'.
The theme is a nod to the popularity of science fiction films this year, with blockbusters like Independence Day: Resurgence, Star Trek Beyond, Rogue One: A Star Wars Story and Chinese feature film The Three-Body Problem dominating international box offices. But while these films are based on fantasy, JCineCast's solutions are grounded in reality.
"At JCineCast, we strive to help the industry 'Capture Beyond Limits'—to break through the traditional confines of filmmaking and reach new heights. Our 'Outer Space' theme this year represented our conviction that the sky is the limit for the Chinese filmmaking industry. We hope to inspire and equip more filmmakers to reach for the stars," explained Mr Philbert Chin, Business Line Leader of Cinematic & Broadcasting Solutions.
JCineCast brought some of the latest products launched this year to BIRTV 2016. To give full play to the power of these products, JCineCast set the scene for a live shoot onsite. A giant solar system model at the centre of its booth served as a film set to enable show-goers to experience the Angenieux Anamorphic 44-440's long range zoom, the ARRI Master Anamorphic 28mm's compact and minimal-weight lenses and Cooke 's first front anamorphic /i 35-140 zoom lens for themselves. Visitors also met the Schneider Xenon FF 18mm and RED digital cameras in person. JCineCast has successfully impressed the industry visitors through the immersive and engaging experience.
"We believe that creativity is the lifeline of the industry. We hope to open up more creative possibilities for filmmakers by adopting a multi-brand approach. This is why we continue to grow our large family of principals. This year, we have added new and exciting products to our portfolio, including RED digital cameras, Phantom cameras and SpaceCam Maximus 7 Stabilised Remote Head, just to name a few," said Mr Chin.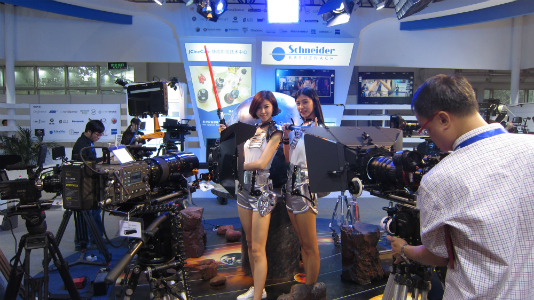 JCineCast continues to strengthen its position as the industry's trusted business partner with complete and customer-focused solutions. Its solutions span the entire filmmaking workflow, from pre- to post-production, and are versatile enough to serve both the professional and prosumer filmmaker on projects ranging from full-length feature films to small-scale music videos and other commercial productions.