"JI Exchange Square" – New Communication Platform In HK, BJ, SH And GZ Offices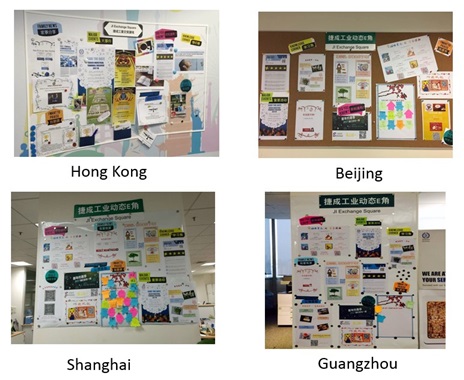 "JI Exchange Square" has launched in Hong Kong last November, and has recently also been launched in Jebsen Industrial's Beijing, Guangzhou and Shanghai offices.
"JI Exchange Square" serves as an information wall board for employees to interact and share social and leisure news among themselves, thereby enhancing communication between employees and making the office lifestyle more vibrant and exciting.
The wall board has seven major sections:
Family News (to share information about new joiners, weddings, newborns, etc),
'I Want to Praise' (a place to express appreciation for fellow colleagues),
Major Events (news about internal and external events),
'Did You Know?' (to share fun facts and life trivia),
Marketplace (to facilitate peer buying and selling) and
Good Deals (to inform others about sales, discounts and promotions).
As a current feature, we brought up a "2017 New Year's Day wishes" section in which we have collected and posted colleagues' wishes.
"JI Exchange Square" will be regularly updated and all staff are encouraged to keep sharing their news, notes and discoveries on it to keep people connected and our office a happy and interactive environment.