JCineCast Showcast Latest Optical Lenses From Angenieux And Cooke At Fifth Annual National Congress Of Chinese Society Of Chinematographers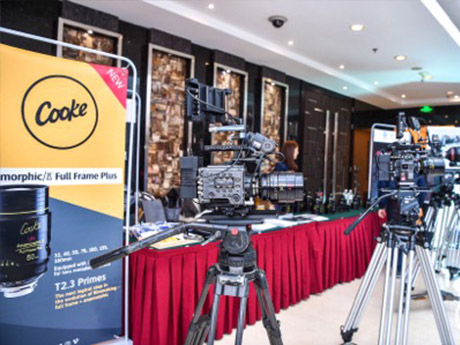 Date: 2018.11.24 ~ 2018.12.24

Venue: Liting Huayuan Hotel

City: Beijing

JCineCast, Jebsen Industrial's Cinematic and Broadcasting & Solutions' business, was honoured to demonstrate the latest optical lenses from two world-leading camera and lens manufacturers, Angenieux and Cooke , at the Fifth Annual National Congress of Chinese Society of Cinematographers at Liting Huayuan Hotel in Beijing on November 24.
The conference gathered the cream of the crop in the filming equipment market. Visitors had a chance to get their hands on the latest Angenieux and Cooke cinematic lenses from JCineCast.
The Angenieux and Cooke lenses showcased and demonstrated were well-received at the event. Highlights include:
Angenieux Optimo Ultra 12X and Type EZ series
Not only Angenieux 's well-acclaimed EZ series full frame zoom EZ1 45-135mmbut also the latest Optimo Ultra 12X were demonstrated. The Optimo Ultra 12X lens became an object of much attention following its official release in 2018. The lens inherits Angenieux 's patented IRO technology, and is a clear choice for the S35 digital camera or any single sensor digital camera with a diagonal up to 46.3mm. Thanks to its modular concept, the lens can support three different image formats: S35 (focal length range 24-290mm; imaging coverage 31.1mm); U35 (focal length range 26-320mm, imaging coverage 34.6mm); and FF/VV (focal length 35.435mm, imaging coverage 46.3mm).
Angenieux Optimo Ultra 12X和Type EZ 系列
Cooke Anamorphic/i Full Flame Plus 50mm, S7/i Full Frame Plus Primes Range and Panchro/i "Vintage-Look"lens
In addition to offering a wide range of focal lengths in its flagship prime and zoom lenses, Cooke has added to the list the 50mm focal length of the new Anamorphic/i Full Frame Plus range, with more to follow over the next 12 months, to meet the demand for large format production. These Cooke lenses truly offer choices for different filmmaking priorities.
Cooke Anamorphic/i Full Flame Plus 50mm、S7/i Full Frame Plus Primes Range及Panchro/i "Vintage-Look"镜头
Cooke from the UK has long been known for the ability of its products to produce unique optical quality and three-dimensional images. At the event, Cooke exhibited three products, including:
1. The new large format Cook Anamorphic/I Full Frame Plus 50mm developed in 2018. The lens not only meets the growing demand for full frame, it is also equipped an elliptical flare and the unique extra-focus deformation characteristic.
2. Full Frame fixed-focus lens s7/I Full Frame Plus 18/25/32/40/50/75/100/135mm, which became available in 2017.
3. To replicate old time favourites like Speed Panchro images, the Panchro/I "Vintage Look" 18/25/32/40/50/75/100mm.
JCineCast was very honoured to have had the opportunity to be a part of the Fifth Annual NationalCongress of Chinese Society of Cinematographers, where they not only introduced the latest lenses from Angenieux and Cooke to photographers and cinematographers in China, but also received valuable usage tips, insights and feedback from them.