JCineCast iS Bringing A Comprehensive Choice Of New Technologies To BIRTV 2018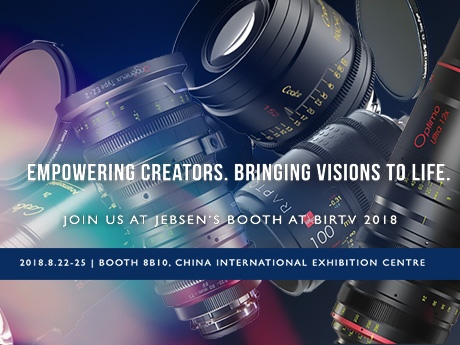 Date: 2018.08.22 ~ 2018.08.25

Venue: China International Exhibition Centre (CIEC)

Booth: Hall 8B10

City: Beijing

JCineCast is Bringing a Comprehensive Choice of New Technologies to BIRTV 2018
JCineCast, Jebsen Industrial's Cinematic and Broadcasting & Solutions' business will showcase a wide range of pioneering product portfolio and solutions from over 10 industry-leading lens, camera & filmmaking equipment manufacturers at BIRTV 2018 in response to the changing needs of the industry. Visitors can get their hands on the latest large format cine lenses, cameras and accessories as well as explore, with the JCineCast team, unlimited creative possibilities by flexibly building an optimal production equipment portfolio for their long-term investment and development.
Empowering Creators. Bringing Visions to Life.
Ridding on this year's theme "Empowering Creators. Bringing Visions to Life.", JCineCast works hand in hand with industry front-runners to showcase the latest innovations at BIRTV 2018, including:
Optimo Ultra 12X, Angenieux 's latest zoom lens, will be brought to BIRTV for the first time together with the well-acclaimed Type EZ series. Optical and mechanical design being re-engineered, Optimo Ultra 12X enables an appealing cinematic look with improved mechanical stability and serviceability. As a multi-format high magnification zoom, it is the ideal long-range zoom for high-end productions. Thanks to the IRO technology®, the lens can be configured into three different formats: S35 (Ø31.1mm image circle), U35 (Ø34.6mm image circle) and FF/VV (Ø46.3mm image circle).
Cooke 's latest flagship prime and zoom lenses will all be available with JCineCast at BIRTV 2018. Be it the S7/i Full Frame Plus Primes that features eight focal lengths to cover the emergent full-frame cinema camera sensors or the new Panchro Classic in newly designed housing that comes with the quintessential look and feel, the Cooke lenses offer choices for different filmmaking priorities.
With the RAPTOR lens series, a new macro lens set with 4 focal lengths 60mm, 100 mm, 150 mm and 180 mm is offered, featuring full frame (24×36) coverage, 1:1 magnification, T-Stop 2.9 as well as robust and durable professional cine mechanics. IB/E Optics' latest Velociter x0.8 optical converter, PLx2 VV and VVx2 UMS optical extender will also make their first appearance at BIRTV 2018.
These newly released Tiffen filters live up to the expectation of the next generation ND and IRND filtration. Leapfrogged improvements have been made on neutral density filtration with perfect neutrality across the visual and IR spectrum, delivering ultimate colour accuracy.
A comprehensive selection of filters by Schneider will be gathered at BIRTV 2018, ranging from the Radiant Soft series and True-Net diffusion filters to the True-Streak Filter Series. These filters empower cinematographers with the ability to create stunning visual effects that enrich the pictures.
Innovative showcases won't be complete without the following on display:
Innovation that brings the industry forward
Digital technologies and large image sensors have revolutionised the filming industry, now with innovative products available for filmmakers. JCineCast is fully committed to offering cinematographers in China more product alternatives so that they can fully capitalize on novel technologies of their choice to bring their creative visions to life. The Chinese filmmaking industry deserves flexibility in the adoption of innovative technologies available in the market for their future growth and JCineCast is here to make it happen.
For live demos, hands-on opportunity, promotions and more, make a date with the JCineCast team at BIRTV 2018!