JCineCast Embraces Latest Lenses And Technologies At BIRTV 2018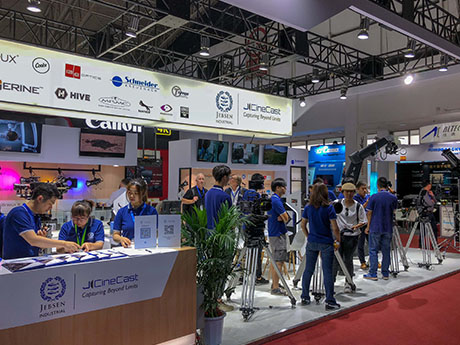 Date: 2018.08.22 ~ 2018.08.25

Venue: China International Exhibition Centre (CIEC)

Booth: Hall 8B10

City: Beijing

Jebsen Industrial's Cinematic and Broadcasting & Solutions' business JCineCast is showcasing the latest and greatest large format cinematic lenses and technologies at the Beijing International Radio, TV & Film Equipment Exhibition (BIRTV), its 20th time participating in China's most authoritative exhibition of innovations in the radio, film and TV industry.
"There is a clear message emerging from global industry events – like NAB 2018 in the US – full-frame lenses and large image sensors are here to stay, as UHD productions continue to be on the rise," said Jack Yu, Head of Cinematic and Broadcasting Solutions. "It is extremely important for Chinese filmmakers and cinematographers to see these latest innovations in action. This in return will foster the development of the industry in China. BIRTV presents an excellent opportunity for us to showcase the market trend and unleash opportunities with our cutting-edge technologies."
At JCineCast's booth, BIRTV 2018 visitors will be able to get their hands on the newly released large format lenses and new equipment from various industry leading manufacturers. These include the Angenieux Optimo Ultra 12X and Type EZ series, the Cooke S7/i Full Frame Plus Primes T2.0, the Cooke Panchro /i Classic lenses and IB/E Optics' full range RAPTOR lens series and optical converter.
The "multi-brand" approach of offering a comprehensive range of the best cinematic lenses, cameras and technologies from different manufacturers is deeply-rooted in JCineCast's business philosophy. Other than large format lenses, JCineCast's full product showcase for BIRTV 2018 also presents filters and other accessories from over 10 renowned manufacturers to help filmmakers perfect visual representation in their productions. These include the Tiffen 's NATural Neutral Density Filters, Schneider's Motion Picture and Television filters, MRMC's Bolt high speed cinebolt, Servicevision's Mini Scorpio HEAD HD, Bright Tangerine's matte box, follow focus and titan arm, Hive's C-series lighting, Phantom's VEO 4K and Flex4K-GS high speed camera and Panther 's Classic Plus Dolly.
"We truly believe that the development of the industry in China shouldn't be hindered by the limited options of technologies. We are dedicated to bringing the widest range of revolutionary products to China so that Chinese film and TV programs creators can be empowered to build an optimal production equipment portfolio that brings their visions to life," added Jack Yu.
To help industry players visualise how different products can realise their creative ambition, JCineCast has made the demo setup flexible enough for them to put the various products together into their desired solutions at the booth. BIRTV visitors are welcome to dip their toes into the preeminent lenses from Angenieux , Cooke and IB/E Optics, together with the latest filters from Schneider and Tiffen , and many other accessories and solutions.
"We understand that different filmmakers have different production requirements and budget constraints. We will continue to stand by them, doing our best to bring in more choices from new and existing principals to help them fulfil their production needs in an efficient way," concluded Jack Yu.