JCineCast Debuts Of Latest Lenses And Technologies At BIRTV 2017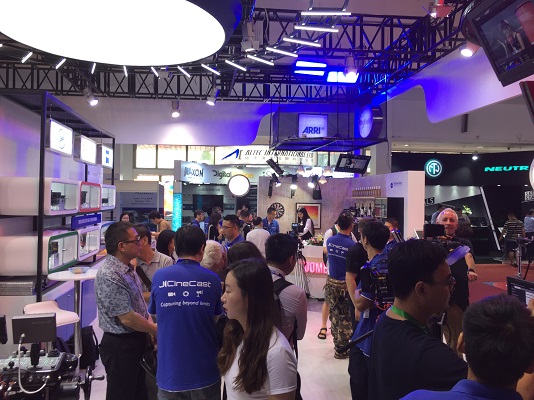 2017.08.23
Beijing, 23 August 2017 — Jebsen Industrial's Cinematic and Broadcasting & Solutions' business JCineCast joins the Beijing International Radio, TV & Film Equipment Exhibition (BIRTV) for the 19th time, bringing with it the highly anticipated Asian debut of the latest and innovative cinematic lenses and technologies.
Tradeshow visitors will have the opportunity to test-drive the Cooke S7/i Full Frame Plus Primes T2.0, the Cooke Panchro /i Classic lenses, the Zeiss Compact Prime CP.3 lenses and the Angenieux Optimo Style 48-130 just months after they were unveiled at the NAB Show 2017.

"At global tradeshows like IBC 2016 in the Netherlands and NAB Show 2017 in the US, we are seeing the emergence of full-frame lenses, large image sensors and other innovative technologies. BIRTV is an excellent platform for us to introduce these new and exciting innovations to Chinese cinematographers. Creativity is the lifeline of the industry and we believe that having access to the right equipment is essential to help cinematographers bring their creative visions to life," said Mr Philbert Chin, General Manager, Cinematic & Broadcasting Solutions, Jebsen Industrial.

Fittingly, JCineCast's theme for BIRTV 2017 is 'Innovation. Imagination. Creativity.' This is aligned with the launch of new lenses and technologies by all of our partners in 2017 and the company's unique multi-brand, multi-channel approach to serving the industry.

"At JCineCast, we strive to help the industry 'Capture Beyond Limits' — to break through the traditional confines of filmmaking and reach new heights. By building a wide portfolio of the latest industry products and solutions, we are able to recommend the most optimal combination of lenses, cameras and accessories for each cinematographer, and open up more creative possibilities for them," explained Mr Chin.

JCineCast's full product line-up for BIRTV 2017 also includes solutions from over 10 industry leading manufacturers. This includes the latest glass enhancements and effects for the popular Angenieux Optimo Anamorphic series of cinematic lenses.
To offer BIRTV 2017 visitors an immersive experience, JCineCast has prepared two mini film sets onsite. Visitors are welcome to try out the new lenses, paired with RED digital cameras, Phantom Flex 4K high-speed cameras, ARRI Alexa digital camera,Panther 's SpaceCam Maximus 7 Remote Head, Panther 's Classic Dolly, filters from Schneider and Tiffen and many other solutions.

"As a trusted business partner of the film and broadcast industry in Greater China and Asia, we take pride in being the first to bring the best of Hollywood to the region. We will continue to support filmmakers in discovering new channels, leveraging new technologies and 'Capturing Beyond Limits'," said Mr Chin.