Giving Wheels To Young Dreams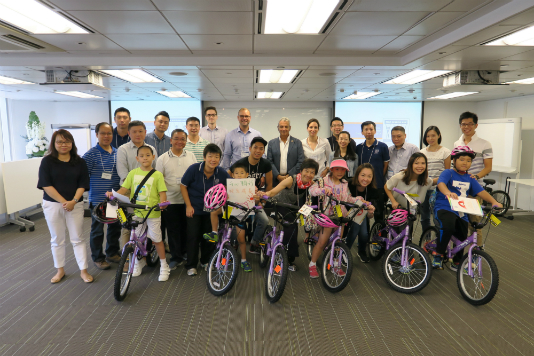 Jebsen Industrial's management team build bonds while building bicycles for underprivileged children in Hong Kong
On 19 August, 18 members of Jebsen Industrial's management team participated in a teambuilding activity with a difference! These top executives rolled up their sleeves to assemble six bicycles as gifts to underprivileged children in the community. The activity was organised in partnership with The Hub Hong Kong Children and Youth Centre, which cares for children from disadvantaged homes.
Doubly meaningful
At Jebsen Industrial, people are a key asset. To nurture a high performing workforce at all levels and embed a culture of innovation, the company invests strongly in people activities. Teambuilding is central to its people engagement strategy as strong teams form a support network for its people to excel on a daily basis. This, in turns, translates to greater organisational productivity.
At the same time, the company recognises its responsibilities as a corporate citizen and continues to give back through a myriad of Corporate Social Responsibility initiatives. This management teambuilding activity was a creative way of combining two objectives into one deeply meaningful and more fulfilling experience.
At the end of the activity, just as the Jebsen Industrial team was placing the finishing touches on the bicycles and expressing our wishes and cares through blessing cards, they were surprised by four young visitors! The Hub Hong Kong had arranged for four children to meet and thank the team in person. The children were also eager to try out their new bicycles right away, with helping hands from the 'aunties' and 'uncles' from Jebsen Industrial.