Focusing On Southeast Asia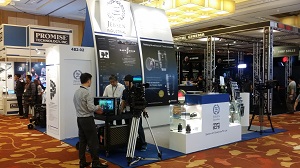 Date: 2016.05.31 ~ 2016.06.03

Venue: Marina Bay Sands

City: Singapore

Jebsen Industrial is a regular feature at BroadcastAsia, also known as the International Digital Multimedia & Entertainment Technology Exhibition & Conference. Held annually in Singapore, the tradeshow is one of Asia's largest representative shows for the pro-audio film and TV industries. In 2015, Jebsen Industrial's participation yielded over 1,000 visitor engagements and 80 serious business enquiries.
This year, Jebsen Industrial's Cinematic & Broadcasting Solutions (C&BS) team will be leading their participation in BroadcastAsia with JCineCast—an umbrella branding for its multi-brand, multi-channel approach to serving the film industry. Through JCineCast, Jebsen Industrial delivers its vision of 'Capturing Beyond Limits', helping filmmakers pursue their creative freedom by customising cinematic solutions that fit their specific needs, requirements and budgets.
To excite and engage audiences at BroadcastAsia 2016, Jebsen Industrial will be hosting the regional debut of two new products:
Making its first appearance in Asia is the new Raptor FF lens family by Germany's IBE Optics. Designed to address the industry-wide movement toward larger format sensors, the lenses deliver a convincing film-look and interesting bokeh.
Jebsen Industrial will also give Southeast Asian audiences their first look at Cineped's next generation tripod featuring a 3.5ft rotational camera slider and the Cineped Quattro tripod. The flagship product from the American manufacturer is expected to create industry-wide buzz.
To complete its line-up of cinematic solutions, Jebsen Industrial will also partner a slew of principals for Broadcast Asia, including Schneider, the German lensmaker whom Jebsen Industrial represents exclusively in the Southeast Asian region, Walimex Pro, the lens and lens accessory solution provider, Bright Tangerine and their renowned matteboxes as well as Transvideo monitors.
Together, these solutions illustrate the mix-and-match concept that C&BS is best known for. With a wide portfolio of solutions from some of the world's best manufacturers, C&BS uses its deep familiarity with different products and keen understanding of industry needs to create cross-brand solution packages that are both cost effective and optimised for results. It seeks to bring this experience to showgoers at BroadcastAsia 2016, to help them 'capture beyond limits'.
To learn more about the solutions featured here, or to arrange to meet the Jebsen Industrial C&BS team at BroadcastAsia 2016, please contact us here.