First Delivery Of Angenieux Optimo Ultra 12x Full Frame Zoom Lens To China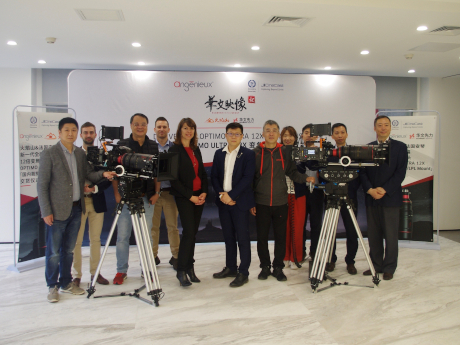 Jebsen Industrial's JCineCast partners with Angenieux to bolster China's booming film and TV industry with state-of-the-art zoom technology
Responding to the burgeoning demand for high-end film and television productions in China, Jebsen Industrial's JCineCast has collaborated with Angenieux to deliver the first shipment of Angenieux Optimo Ultra 12x Full Frame FF/VV zoom lens to four film equipment rental houses in China.
Huawen X-Rental, Flaming Mountains, Star Light Films and ND Film/Rental are the first batch of customers in China to receive the PL/LPL Mount Angenieux Ultra 12X zoom lens. This high-tech addition to their portfolio allows the rental houses, already established players in China's growing high-end film, TV and commercial productions market, to offer a more comprehensive suite of solutions to filmmakers in China.
Ms. Severine Serrano, Managing Director and Mr. Frank Goh, APAC Regional Manager of Angenieux International Sales & Communication presented the Optimo Ultra 12x zoom lens to these customers in person.
Delivery of Optimo Ultra 12x to rental house Huawen X-Rental and Flaming Mountains From left: Mr.Li Yihe, General Manager of Flaming Mountains, Mr. Marc L'Huillier, Sales Operations of Thales Group, Mr. Frank Goh, APAC Sales Manager of Angenieux , Mr. Brice Fleuri, Director of Thales Group, Ms. Severine Serrano, Sales Director of Angenieux , Mr. Li Fei, Group President of Huawen Rental Group, Mr. He Quan, Vice President of Huawen X-Rental, Ms. Pearl Wang, National Sales Manager of Jebsen Industrial, Mr. Jeson Hau, Technical Manager of Jebsen Industrial, Mr. Jack Yu, Department Manager of Jebsen Industrial and Mr. Chen Yuanjun, Vice President of Huawen Rental Group.
Mr. Lin Wenjie, CEO of Star Light Films and Ms. Severine Serrano of Angenieux officiate the handover ceremony of Optimo Ultra 12x.
Mr. Wu Hao, CEO of ND Film/Rental receives the first delivery of Optimo Ultra 12x from Mr. Frank Goh, APAC Sales Manager ofAngenieux .
Tailor-made for high-end productions, Angenieux Optimo Ultra 12x zoom lens comes with a completely new optical design, and improved mechanical stability and serviceability. It enables a more appealing cinematic look with smooth skin tones and a greater balance between contrast and resolution. Zooming is also smoother, thanks to a very fast transition of focal lengths for 12x zoom ratios and more advanced technologies that create no rampingand minimal breathing. With its dynamic and robust features, this product is an ideal long-range zoom lens for feature films, live stage, commercials and music videos alike.
"Our customers in China have shown an enormous interest in the Optimo Ultra 12x Full Frame zoom lens since we first introduced it to the market, and we are very pleased to deliver the product to them now," said Ms Severine Serrano. "We understand that Chinese filmmakers and cinematographers are passionate about high-end productions. We are dedicated to bringing them the most innovative products and will continue to support the growth of the film and television production industry in China."
As diversified film and television productions blossom in China, the comprehensive capability of Angenieux Optimo Ultra 12x is a catalyst to industry development. Backed by the foundation of a long-term strategic relationship, Jebsen Industrial is poised to further enhance Angenieux 's brand presence with its cutting-edge products.
"We have been working with Angenieux for over 20 years in Asia," said Jack Yu, Head of Cinematic and Broadcasting Solutions of Jebsen Industrial. "The delivery of the Optimo Ultra 12x Full Frame zoom lens is a new milestone in our partnership, especially as it marks a pivotal point for the film and television industry in China. The increasingly inspired and creative local industry players in China are seeking the best technologies to boost their productions, and we believe that Angenieux 's innovative, high-quality products will be cornerstone to the growth of this thriving industry."