Excellent Quality, Technology, And Service Makes A Good Rental House: An Interview With Flaming Mountains' General Manager Yihe Li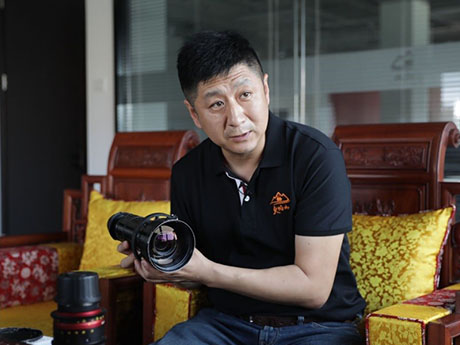 As a former cinematographer, Mr. Yihe Li is not only passionate but also well researched when it comes to equipment and technology. Today, he manages one of China's leading rental houses — Flaming Mountains Co. Ltd. In addition to running the company's daily operations, he spends much of his time researching new products and technologies. In this interview, Mr. Li shares his user experience and reflects on the past and present of Angenieux lenses.
Angenieux : As a rental house, how do you position the Angenieux brand?
Flaming Mountains: To us, the Angenieux Optimo lenses are mid-to-high range zooms. It enjoys good standing in the industry, especially in the movie sector, where it has been dubbed the 'king of zooms'. In the past, Angenieux had manufactured broadcast-grade prime and zoom lenses, but its true claim to fame in the movie business started with Optimo. For example, its 17-102 and 25-250 10X zooms won an Oscars for Best Technology. With this is a seal of approval by the American movie industry, it steadily gained a foothold in China.
Before 2012, it could be said that Angenieux zooms were unrivalled. But then, ARRI introduced a series of zooms (15.5-45,30-80,18-80,45-250) and, given that Angenieux lenses were expensive to purchase and rent, most of the market shifted to other brands. However, as a premium product, Angenieux lenses remained the top choice of the movie industry. The company was very smart. In order to better serve the market, it introduced the new Optimo Style series with the 16-40, 30-72, 48-130 and other zooms. The price point was reduced by almost half. For rental houses, this relieved our financial pressures. Based on feedback from users and tests, "except for changes to the light control 't' value, one is practically a T2.8, the other is a T2.6 — there is hardly any difference."
Angenieux : In your opinion, what is Angenieux 's brand image?
Flaming Mountains: To describe the Angenieux brand in one phrase, I would say 'quality'. As a cinematographer, when I am selecting zooms for a movie production, Angenieux is my first choice. Whether in terms of picture quality or stability, it leaves cinematographers with no complaints. Quality is also evidenced through the construction and technology of its lenses.
Angenieux : How does Angenieux 's technology help your company in its business development?
Flaming Mountains: For a rental house that is just starting out, it is important to establish a foothold in the industry quickly. We must first analyse market needs and determine our development direction. This is my take — China's TV industry is at a turning point; TV production has to meet the needs of viewers and viewers have increasingly high expectations of picture quality. Every Angenieux lens is designed to serve the picture, which is why we chose to purchase more Angenieux zooms. This allows us to bring better quality equipment to the TV production sector, while creating more business opportunities for ourselves. With the collaboration of Jebsen team and the support of Angenieux , we were able to bring in the full set of Angenieux lenses in the shortest amount of time. This helped strengthen our value proposition and our brand image.
Angenieux : In your opinion, what are the benefits of using Angenieux 's zoom lenses?
Flaming Mountains: From a technology perspective, the picture quality and stability in use of Angenieux lenses offer cinematographers a sense of assurance. It gives the production team the peace of mind to focus on their work. For us as a rental house, that is the best benefit using Angeniuex lenses.
Angenieux : What's your take on Angenieux 's latest Interchangeable Rear Optics (IRO) technology?
Flaming Mountains: This technology has brought many conveniences to us. Buying one lens is akin to buying two now — this reduces our costs and enables us to meet the different needs of cinematographers. For IRO technology to be widely used, I believe that manufacturers need to undergo further technical training to give users the confidence to swap the rear group and fully utilise the technology.
Angenieux : Which are the most popular Angenieux cinematic lenses in China and why?
Flaming Mountain: In China, the most commonly used lenses are the 24-290 and 28-340. In the early days, the 15-40, 17-80 and 24-290 were all essential lenses. As the product line was updated and upgraded, the 17-80 has been replaced by the 19.5-94. This is a relatively uncommon lens in China and many cinematographers have not had the chance to use it. The 24-290's image field makes it difficult to serve large CMOS cameras, so Angenieux introduced the 28-340. Personally, I think that the 15-40, 19.5-94 and 28-340 are the new 'trio' of the Angenieux zoom series. As a set, they provide very logical focal lengths and a consistent shooting style and quality.
Angenieux : How is your company adapting to the digitisation of the industry?
Flaming Mountains: We did not operate in the film era. Instead, we rode on the digital wave to grow our business. I think the transition from film to digital started in 2008 with RED's first digital camera. In the 10 years that followed, so much has changed and film has almost completely disappeared. Today, Chinese cinema is growing from strength to strength, the demand for video is increasing on a daily basis, and rental houses are flourishing. I think that we came in at the right time and grabbed the right opportunities.
Angenieux : Do you think that the Chinese cinematic and broadcasting industry has any hidden needs in terms of equipment?
Flaming Mountains: Special purpose equipment could be a new growth area. While we now have a lot of high-end equipment, compared to foreign rental houses, we have less special purpose equipment. As a rental house, we have to see things from a production team's perspective and consider issues from a user's point of view. After the equipment list is finalised and before the production team visits us to test the equipment, our project manager meticulously prepares all the equipment for our internal testing. From cameras, lenses, and accessories, to wires and adapters, nothing goes unchecked. If I were a user, I would find such a rental house to be very professional and dedicated, and I would be happy to continue working with such a company.
As a rental house, we provide more than equipment; we provide service too. There is a set of Angenieux glare lenses that can be self-mounted onto Optimo Anamorphic lenses. In China, only Flaming Mountains offers this. In all seriousness, we are not trying to outdo our competitors, whether in terms of technology know-how or professionalism. We just want to provide good service and offer better solutions. Anamorphic lenses have a unique glare. If production teams use prime lenses with a special glare, then what about their zooms? With these glare lenses, cinematographers have a more compatible solution. We purchased these glare lenses because we think from our users' perspective — that is our service philosophy.
For a rental house, financial strength and equipment inventory size are not core competitive advantages. The real competitive advantage is having high quality professional equipment, excellent service, and strong technology. Of course, there remains more for us to learn and do. I hope that, through the collective effort of my team, we can create an equipment rental system that is unique to Flaming Mountains.
Angenieux : In China, which production categories are currently in the high-growth stage?
Flaming Mountains: Web dramas are developing rapidly now. The risks associated with movies are becoming increasingly high; a mega-production may not necessarily achieve good box office results. But the advent of the Internet and web dramas have created new possibilities for people in this industry. Just the growing demand for short video clips, such as Taobao's video streaming site for sellers, has been able to keep many small rental houses afloat. Because they saw opportunities for growth and success, they entered the industry. As business volumes continue to grow, many of these companies may also grow in size and scale.
Angenieux : Do you have anything else to add?
Flaming Mountains: I got started in the equipment leasing business in 2009. Even with limited capital, I was decisive about investing in cinematic lenses. That was when I bought my first Angenieux 25-250 zoom ( Angenieux 's first-generation 10X zoom), second hand, from eBay for RMB15,000. It was first leased out to a friend for free. I wanted him to try out the lenses and give me some feedback. My friend's first shoot was with the 25-250. After the shoot, he excitedly called me. As the largest aperture of the lenses was T3.9, to achieve the depth that he wanted, he used a T8 image circle during filming. In our conversation, he actually used the term "close to perfection" to describe these RMB15,000 Angenieux 10X zooms.
Now, with ARRI's 65 and RED's VV, more manufacturers are promoting the full frame format. A new situation has arisen. Major rental houses are becoming hesitant about investing in lenses. Angenieux has introduced the full frame ULTRA 24-290 with a full frame focal length of 36-435 at T4.2. In my opinion, the Angenieux 44-440 at T4 has a close image circle. It produces gorgeous outdoor shots and its horizontal angular field of view gives cinematographers sufficient room to be creative. I also personally find anamorphic images to be more charming than full frame. So, I think lens manufacturers should objectively review the changes in the S35 and full frame markets.