Encouraging Dialogue And Communication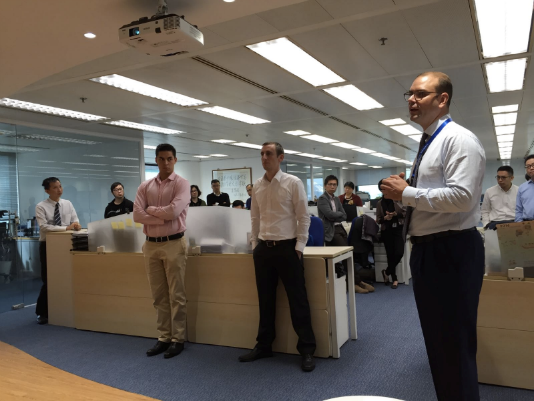 Twice a year, Jebsen Industrial organises Quarterly Business Meetings to communicate business updates and latest company news to its people. At the recent Quarterly Business Meeting on 25 November 2016, staff across different locations from Hong Kong, Beijing, Guangzhou and Shanghai to Dalian, Tianjin, Wuhan, Chengdu and Xiamen were connected to hear directly from Managing Director Maximilian von Stillfried.
During the session, Mr von Stillfried welcomed new team members, reviewed the company's year-to-date performance and rallied the team to put in their best efforts to achieve the 2016 targets together. He also addressed questions raised by staff at the previous skip-level Chit-Chat session, which is designed for staff and management to have an open dialogue in an informal environment. In addition, staff were excited to hear about the 'JI Exchange Square', a new communication initiative that aims to promote a culture of continuous improvement through meaningful exchange.
Jebsen Indsutrial's Quarterly Business Meetings are held regularly on top of its bi-annual Town Hall Dialogue to foster closer communication within the company.