Dop Requested For "Monster Glass!" For Shooting "Born In Heaven"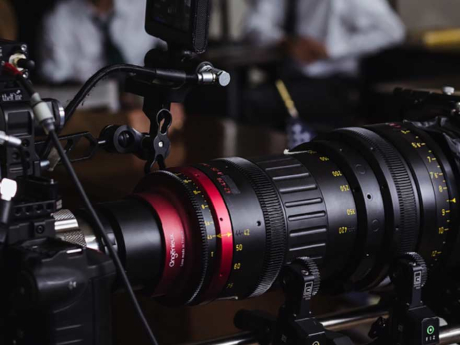 A DP review of Optimo Anamorphic 42-420 A2S
"First of all, I'm very satisfied about what the Optimo Anamorphic 42-420 A2S brought to this movie Born In Heaven. It gave me, the DP, various creative options in preproduction and these came true on the set as well as in postproduction.

At the beginning of the production we were planning to rent an Optimo Anamorphic 30-72 A2S. That is also a very beautiful and instantaneous glass, but I was concerned with several conditions we would face. Specifically some camera movements like Crush zooms / long Vertigo Dolly Zoom / tight shots in crowd, not to mention we had to work on both tiny and wide locations. Fortunately, I had the opportunity to talk with Nick Hayes, the North American sales manager for Angenieux , and he suggested using the new Optimo Anamorphic 42-420 A2S prototype to achieve them.
The 10x zoom range is so convenient and useful for this production's situations which are not like shooting in a big studio. Our limitations came out in camera positions and production designs for these locations. With this lens I could make detailed adjustments for framing; without struggling and taking risk for changing lenses in tiny spaces on tight schedules".
"The lens' abilities were not only its practical range, but also fidelity color capturing which would stimulate the controlled lightings and distinctness pictures on both fastest T4.5 and longest 420mm; which were beyond expectations. These clear images surprised me so much; when I shot extremely close up at 420mm with some distance of ruck focus, I almost forgot we were shooting on an anamorphic lens because of the limpidness.
We made shots with dolly, slider, jib and handheld as well, and they all worked well. Optimo Anamorphic 42-420 A2S is not a small lens and weighs on your camera, therefore choosing a right camera head is mandatory. On the other hand you are good to work with almost all of the basic equipment without any concern. The handheld shots weren't very easy but workable. To top it off, the combination of handheld and zoom work made one of signature shots on the film.
Finally, I am a big fan of anamorphic lenses as are many DPs around the world. Born in Heaven was a low budget project to say the least, but thanks to supporting of Nick Hayes and Angenieux ; we worked with the new, out of this world, lens: Optimo Anamorphic 42-420 A2S. The shots we captured were both beautiful and meaningful footage for the story we were trying to tell. This is the priority purpose of cinematography. I strongly believe that the film will come to life as a direct result of choosing this lens".
SHU HIRAYAMA – Director of Photography
Crew reviews of Optimo Anamorphic 42-420 A2S
In this project 'Born In Heaven', my biggest concern is always time and budget. Because low budget films don't have enough financing, they make their shooting schedules really tight. However, since we got the anamorphic zoom lens, we saved a lot of our time. We didn't have to change our lens and most of our shots worked with the lens; which is 42-420. Also we could try plenty of various shots which are crash zooming, zooming in with handheld, and dolly zoom. It gives our film a more interesting and cinematic look. Personally, I love flares from the anamorphic lens. It helps us for making our specific tone which is 'Born In Heaven'.
JUNGHOON LEE – Director / Executive Producer
I had heard a lot about the Angenieux lens and its capabilities, but this was my first Hands-on experience with the lens and I found that it was all that I had heard about, and more. It has a unique cinematic look and strikes the perfect balance between sharpness and softness. Speaking from the view of a First AC, I found the range of lens to be extremely convenient and time saving – A critical factor during any video or film shoot. I love it and I hope to gain a more in-depth understanding of it in the near future!
MYEONGJIN PARK – 1st AC
Lighting for the new Angineux 42-420 excited me. We live in an era where directors and cinematographers want increasingly shallower depth of field, and this often times makes lighting an afterthought. With the T4.5, I was forced to light, and it made me get creative with controlling units in the scene and units lighting the scenes. The lens produces beautiful images with a very nice focus roll off. The distortion is actually quite minimal, as such the lens produces a very desirably clean image while staying true to the anamorphic format. This makes VFX and grading ever so slightly easier in the long run.
JAAN KRISTIAN UTNO – Gaffer
Conditions of the movie Born In Heaven with OPTIMO ANAMORPHIC 42-420 A2S:
– Camera : RED Epic Dragon 6K S35
– Lens : OPTIMO ANAMORPHIC 42-420 A2S
(only two shots for specific purpose)
– Lens control : Arri WCU-4
– Filters : Pearlescents, Digital Diffusion FXs, Glimmer Glasses, Polarizers
– Equipment : Sachtler 7+7 TS, Doorway Dolly, An Original Slider, Libec Jib 9ft, Handheld rig
– Camera dpt : DP-Operator, 1st AC, 2nd AC
– Locations : Single Family House [ Day & Night ], Private High School [ Day ]
– Others : Short Drama (15), 3days Shooting + 2days Prep, Super Low Budget