Digitisation Is An Opportunity For Chinese Film: An Interview With Scenefone's General Manager Weifeng Sun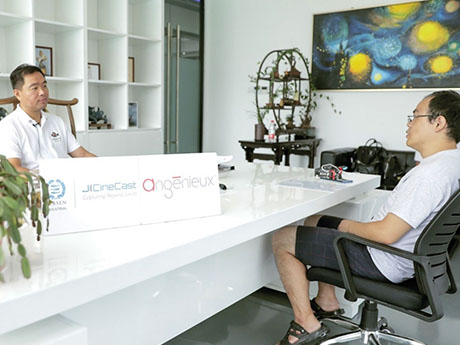 In 2016, SCENEFONE Film Equipment Rental (Beijing) Co. Ltd placed an order for over 100 Angenieux cinematic lenses, instantly creating one of the country's largest inventory of these lenses.
SCENEFONE is now one of Angenieux 's most important business partners in China. Under the stewardship of General Manager Mr. Weifeng Sun, the company is steadily moving towards the international arena as a one-stop provider of cinematic equipment, sets, studios, talent as well as catering and accommodation.
Angenieux : As a rental house, how do you position the Angenieux brand?
SCENEFONE: Angenieux is synonymous with premium cinematic lenses. When SCENEFONE first started out, we already purchased the Optimo zoom lenses. At the time, the Chinese cinematic industry was broadly divided into cinema and TV. The lenses available in the market were also highly limited. Angenieux lenses are a great product but inventory levels were low and rental costs were high. We saw this as an opportunity. In 2016, we purchased a large quantity of Angenieux lenses and invited cinematographers to trial the lenses. Today, 90% of local cinematographers would choose the Optimo zoom 19.5-94, 28-76, and 24-290 for their productions.
Angenieux : In your opinion, what is Angenieux 's brand image?
SCENEFONE: It is a high-end brand that offers top notch technology in a modern design. After all, France is a romantic country.
Angenieux : How does Angenieux 's technology help your company in its business development?
SCENEFONE: When we first started, we only did movies and commercials. These were relatively high-end productions that required Angenieux 's premium lenses, so we were able to secure many projects. In 2016, after we purchased over 100 Angenieux lenses, we have been able to scale up the business even more.
Angenieux : In your opinion, what are the benefits of using Angenieux 's zoom lenses?
SCENEFONE: That relates to our business strategy. We believe that high-end productions need good lenses. When we invested in over 100 Angenieux lenses in 2016, our objective was to change the cinematic equipment leasing market. Back then, most production teams operated on a small budget, so we offered to let them try Angenieux lenses for free in order to build mass appeal. Now, almost every production team and cinematographer would specify Angenieux lenses in their equipment list. This is a win-win situation. For production teams, they are able to lease good lenses at an affordable price to ensure production quality. For us, it increases rental volumes and business turnover.
Angenieux : What's your take on Angenieux 's latest Interchangeable Rear Optics (IRO) technology?
SCENEFONE: IRO is a technology that Angenieux has developed from the rental house's perspective. It makes lenses more versatile and achieves functional diversity. For rental houses, it increases our return on investment. For example, the focal length of the lenses can now be adjusted to wide screen or standard format depending on production needs and this creates greater choice and flexibility.
Angenieux : Which are the most popular Angenieux cinematic lenses in China and why?
SCENEFONE: The Optimo 19.5-94, 28-76, and 24-290 lenses because this series effectively covers wide, medium and long shooting range. These days, 90% of productions, whether TV or movies, will have Angenieux on their equipment list. This is not only because the lenses are quality guaranteed, but also because Angenieux provides superior after-sales support.
Angenieux : How is your company adapting to the digitisation of the industry?
SCENEFONE: When I founded SCENEFONE in 2008, it was still the era of film. The rise of digital cinematography has actually made the production process more convenient. With film, you can't view footage on set. The film has to be processed before you can check the footage. With digital cinematography, not only can you view the footage in real time, you also have more ease and freedom in post-production. Naturally, film has become a thing of the past. We were extremely fortunate to grab the right opportunity during the transition from film to digital. Our first digital camera was the ARRI ALEX Studio that we bought for a movie production. That project gave us the conviction to invest in cinematic equipment. Over the next few years, we purchased close to 60 digital cameras from brands like RED, ARRI, SONY and Phantom in order to cater to the different production needs of our customers.
Angenieux : Does the Chinese cinematic and broadcasting industry have any hidden needs in terms of equipment?
SCENEFONE: Whether for TV, commercials, web productions or movies, the equipment and technology that the industry needs are now quite similar. Chinese cinematic equipment and technology are now on par with other countries'. Thanks to our domestic market, we are now in the golden age of Chinese film market. The success of even the best production ultimately depends on the market. The prosperity of the market directly influences the development of the cinematic industry. In the film age, Hollywood and Europe prospered. In the digital age, the volume and box office appeal of Chinese movies have far surpassed them. Propped up by the market, Chinese cinematic equipment and technology have been able to outshine many foreign rental houses. I believe that, in the future, Chinese cinema will become even more systematic, professional, and directed in its development. It is important that we continue to strengthen the 'soft power' of our technology.
Angenieux : In China, which production categories are currently in the high-growth stage?
SCENEFONE: I believe that Chinese cinema will continue to diversity. For example, the movie Dying to Survive, would not have been approved for screening two years ago. Art imitates life, and good movies need to be grounded in reality. That is why such movies are popular among consumers.
Angenieux : Do you have anything else to add?
SCENEFONE: We regard Angenieux not only as a good business partner, but also as a great friend. I think that Angenieux should produce its own fixed focus lenses. These used to be part of the product line-up. I hope Angenieux would consider making a comeback with prime lenses to serve cinematographers in an even more diversified manner.