Cooke Anamorphic/i Primes Help Make Vice Visually Sing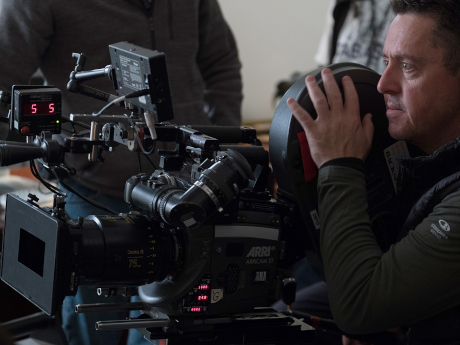 Greig Fraser, ACS, ASC, finds the right combination of film and glass to handle the intense prosthetics, makeup and hair for the story of Dick Cheney
Over the 50 years chronicled in Adam McKay's Vice, cinematographer Greig Fraser had the challenges of photographing actors playing characters twice their age — with intense prosthetics, makeup and hair — while also making a potentially dull series of office-based scenes into a visually interesting story for audiences. To accomplish this feat, Fraser relied on Kodak 200T & 500T film and Cooke Optics' Anamorphic/i prime lenses. 
"When it all comes down to it, this is a procedural film shot in lots of office spaces, and that can be very visually boring," said Fraser. "And while Adam [McKay] has proved that he can make the most boring subjects entertaining — like The Big Short about the 2008 housing collapse that's based on a very dry book — I had to make Vice as visually engaging and interesting as his script. I had to make it 'sing' properly, but with no one noticing."
Fraser doesn't have a discernable style while shooting, aiming for the opposite of that. "It's one thing to have an eye, but avoiding a specific style…that's the ideal scenario," explained Fraser. "While Cheney took great pride in being very methodical, he lacked political charisma. What he was able to do was to be the puppet master and pull the strings of government from the background to achieve his ultimate goals. From a cinematographer's standpoint, this had to be simple and classic — and balance the look against the more jagged styles of Adam and Hank [Corwin, the editor]."
A fan of Cooke lenses all the way back to the start of his career, Fraser tested the Cooke Anamorphic/i primes, looking for consistency through the range, with the warmth he enjoyed from his long-time use of Cooke spherical lenses.
"For Vice, the Cooke s worked very well," said Fraser. "There's a mix of prosthetics, hair and makeup that's unique. Just look at any scene with those prosthetics. You've got Christian Bale who's in his 40s and 180 pounds playing Dick Cheney at 75 and 260 pounds…plus Amy Adams playing Lynne Cheney in her late 60s. They're playing almost double their ages under unflattering fluorescent lighting a lot of the time. The combination of lenses and film format absolutely came into play. I had to find the perfect combination that was sharp enough to resolve, but soft enough and earthy enough to be beneficial to the prosthetics, makeup and hair. The Cooke s helped to give me that look."
Used for approximately 70 percent of the film, Fraser had the full set of Cooke Anamorphic/i primes, but primarily used the 50mm, 75mm and 100mm.
"The underlying technology of the lenses is perfect," said Fraser. "They always lined up. And that's really important when shooting on film as you wouldn't know about a lens failure until the next day. But they were technically tip-top. My focus puller could guarantee marks, regardless of the temperature or environment.
"In the end, I got exactly what I was hoping for and needed," Fraser concluded. "A family of anamorphic lenses that delivered exactly what I've loved for years with Cooke 's spherical lenses — consistency and warmth."
With six Golden Globe nominations including Best Picture, and a win for Best Performance by an Actor in a Motion Picture – Musical or Comedy by Christian Bale, Vice has also been nominated for eight Academy Awards, and received the Best Makeup and Hairstyling award, as well as six BAFTA awards (winning Best Editing) and two SAG awards.