Announcing The New Phantom VEO E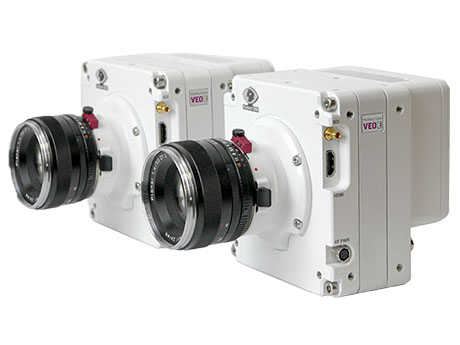 Introducing two new members of the Phantom VEO family: The E-310L and E-340L, both providing 3 Gpx/second high-speed imaging with a one or four-megapixel sensor. VEO-E cameras are a budget friendly solution for industrial and academic institutions with a need for studying movement beyond what is possible with traditional imaging equipment.
These new VEO-E cameras come in a smaller, more lightweight body yet still offer many of the features that Phantom VEO-L cameras are known for. An HDMI output displays the image on standard monitors and TV screens – this is excellent for monitoring the live image and viewing the smooth slow-motion playback immediately once the camera has been triggered.
The powerful Phantom PCC software for image capture and analysis is also included as part of the system, which is designed for an efficient workflow with excellent image quality and precision. Image-based auto-trigger, continuous recording functionality with segmented RAM, two programmable I/O ports for signal acquisition, and versatile lens mount options are just some of the other useful features that can be found in the VEO-E.
The Phantom® VEO E-310L and E-340L are now available to order via Jebsen Industrial Cinematic and Broadcasting Solution team.