44-440 Optimo A2s The New Long Range Anamorphic Zoom Lens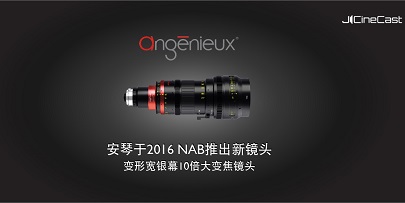 Complementary to the Optimo 56-152 A2S released in 2013, and the Optimo 30-72 A2S released in 2015, the Optimo 44-440 A2S is the brand new lens in the Optimo anamorphic 2x Squeeze series. This lens introduction represents a major design advancement for Angénieux and rounds out company's position of ongoing industry leadership in high end optics for cinema.
The creative virtues of anamorphic lenses have become even more important in the digital age, where cinematographers are seeking a distinctive look to enrich every project. In 2015, 40% of Top 100 Grossing Movies in the US have been shot in anamorphic (Imdb source). The Angénieux anamorphic zoom lenses add a dimensional character to the image with the traditional 2x squeeze, yet minimizing breathing and distortion by adopting a modern optical design.


The two short anamorphic zooms – Optimo 56-152 A2S and Optimo 30-72 A2S – are based on the Academy award winning Optimo lenses, with the cylindrical optical elements integrated in the rear part of the lens. They inherit the quality and agility of the short Optimo spherical zooms. They are the lightest and most compact anamorphic zoom lenses ever made. Developing a high magnification anamorphic zoom companion has been a new major step in completing Angénieux rear-anamorphic line up.

Complementary to a set of primes and to the short Optimo A2S zooms, the new Angénieux 10x anamorphic zoom lens brings speed and flexibility of the long range zoom to the set. It will be available pretty soon.

The Optimo 44-440 A2S zoom lens features traditional 2x horizontal squeeze, minimum breathing and distortion, and a fast aperture of T:4.5 across the zoom range. It has a great close focus of 4ft 1in (1.24m), and is one of the lightest lens in its class at 16.6 lbs (7.55kg). The lens creates a unique image that combines controlled background with an aesthetically dimensional foreground. The Optimo 44-440 A2S brings what many refer to as a "creamy and organic look" that Angenieux zooms are known for.

The Angénieux A2S zoom lenses blend perfectly with the anamorphic prime lenses in the market. Their unique mount design allows a quick swap between PL and PV mounts. And the focus scale ring is easily interchangeable from feet to meters. The 44-440 Optimo A2S features built-in encoders providing metadata (focus, zoom,T-stop) via the industry standard /i Technology interface developed by Cooke .

"After the success of our two short anamorphic zooms, with more than 300 pieces sold all over the world, I'm very pleased to offer the cinema industry and specially cinematographers this new tool to support their creativity. Cinematographers will be able to use our anamorphic lens line in complement of most popular anamorphic primes, but thanks to its own performance, be also able to shoot in scope format with zooms only which seems to become a common practice." said Pierre Andurand – Thales Angenieux VP General Manager and CEO.

Optimo anamorphic short zooms have already been used in a large number of features, TV series or commercial productions, including:

in 2015

Child 44 – Dir. Daniel Espinosa – DP Oliver Wood
Le Ciel du Centaure- Dir.Hugo Santiago – DP Gustavo Biazzi (entirely shot with the 56-152 A2S)
I Saw the Light – Dir.Marc Abraham – DP Dante Spinotti AIC ASC
Teenage Mutant Ninja Turtles 2 – Dir.Dave Green – DP Lula Carvalho
Breaking Through – Dir.John Swetnam – DPJonathan Hall
La Vie très Privée de Monsieur Sim – Dir.Michel Leclerc – DP Guillaume Deffontaines AFC
Ricki and the Flash – Dir.Jonathan Demme – DP Declan Quinn
Staten Island Summer – Dir.Rhys Thomas – DP Anthony Wolberg
Straight Outta Compton- Dir. F. Gary Gray -DP Matthew Libatique ASC
The Magicians – Dir.Mike Cahill – DP Vanja Cernjul CCS ASC
Trois Souvenirs de ma Jeunesse – Dir.Arnaud Desplechin -DP Irina Lubtchansky
Mirziya – Dir.Rakeysh Omprakash- DP Pawel Dyllus PSC

in 2016

The Great Wall – Dir.Yimou Zhang – DP Stuart Dryburgh ASC
The Nice Guys – Dir.Shane Black – DP Philippe Rousselot AFC ASC
Imperium – Dir. Daniel Ragussis – DP Bobby Bukowski
True Crimes- Dir. Alexandros Avranas – DP Michal Englert
Shepherds and Butchers – Dir. Olivier Schmitz – DP Leah Stryker
Amis Publics – Dir.Edouard Pluvieux – DP Guillaume Schiffman AFC
Five – Dir.Igor Gotsman – DPJulien Roux
Radin !- Dir. Fred Cavayé – DP Laurent Dailland AFC
Ikari- Dir. Sang-il Lee – DP Norimichi Kasamatsu JSC
Ma Loute – Dir.Bruno Dumont – DP Guillaume Desffontaines AFC
Le Scribe – Dir.Thomas Kruithof – DPAlex Lamarque AFC
Boku wa ashita, kinou no kimi to deito suru – Dir.Takahiro MIKI – DP Kosuke YAMADA
Hee – Dir.Kaori Momoi – DP Gints Berzins LGC (entirely shot with the 56-152 A2S)
Magic Kimono – Dir.Maris Martinsons –DP Gints Berzins LGC (entirely shot with the 56-152 A2S)
Star Trek Beyond –Dir.Justin Lin – DP Stephen F. Windon ACS ASC

About Thales Angénieux

Thales Angénieux, a Thales subsidiary, is a world renowned manufacturer of high tech optical and optronic systems. Awarded three times by the Academy of Motion Picture Arts and Sciences in 1964, 1989 and 2008, and by the Society of Camera Operators in 2012, and the British Society of Cinematographers in 2014, Angénieux lenses are utilized all around the world by the most demanding image professionals for the production of features, commercials, dramas, documentaries, music videos, sports or cultural event recordings in live 3D or 4K and beyond. Thales Angénieux is also the European leader for night vision equipment.